10 Best Organic Shampoos For 2018
It is every woman's wish to have the best frame for their face – GORGEOUS HAIR!!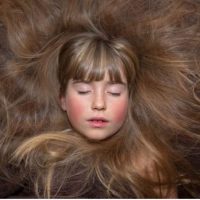 In order to have this wish fulfilled, it is not just about the hairstyle, but more importantly about:
the hair care involved – proper and consistent hair practices
the diet
genetics
use of hair appliances
hair products
In this article, we will be looking at hair products, namely the Best Organic Shampoos for 2018.
It seems that the Moroccan Argan Oil is the winner for 2018. Its hydrating, rejuvenating, gentle cleansing properties are a common ingredient in most of these top 10 organic shampoos for 2018. I think that any one you decide to try, your hair will be happy and so will you!
Let's begin!
---
This shampoo is a wonderful treat for any type of hair. It is 'chock-full of goodness'! Argan Oil is a well-known hydrating and moisturizing oil. As a part of this shampoo's ingredient, it goes without saying that it will be gentle on your hair.
Other great ingredients like jojoba, peach, avocado, and almond oils are oils which impart hair growth, hair sheen, and softness to your hair. It is no small wonder that they refer to this shampoo as liquid gold, and not only because of the argan oil, but the whole combination of all the oils.
Art Natural brand has a standard of 100% natural, paraben-free, and cruelty-free products. The main ingredients of this shampoo are:
Water, Sodium Cocoyl Isethionate, Cocamidopropyl Betaine, Sodium Lauro- Am-phoacetate, Sodium Methyl Cocoyl Taurate, Sodium Lauryl Glucoside Carbo-xylate, Lauryl Glucoside, Sodium Cocoyl Glutamate, Acrylates Copolymer, Coco-glucoside, Glyceryl Oleate, Polysorbate 20, Argan Oil, Phyto-keratin, Peach Kernel Oil, Almond Oil, Jojoba Oil, Pseudocollagen, Camellia Seed Oil, Natural Vanilla/Honey Fragrance, Avocado Oil.
This shampoo is one you need to have in your arsenal to help with taming your frizz, moisturizing your tresses, enhancing your shine, and 'and is guaranteed to restore and strengthen weak, damaged, brittle hair, reviving healthy shine, softness, and luster while delivering healing moisturizers and keratin'.
I would give it a try, you have a lot to gain and the price is reasonable. And there is a shampoo and conditioner duo
that you may even consider trying in order to have that synergistic effect. Using the shampoo on its own is great, however, using the shampoo and the conditioner will optimize the combination of both formulas.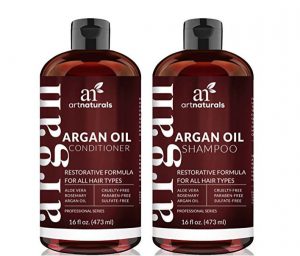 ---

Another great shampoo for your hair. It is infused with all the best ingredients that will make your hair soft, hydrated and moisturized, strong, frizz-free, and shiny. Some of the more popular ingredients are argan oil, avocado oil, jojoba oil and peach kernel. It also has Vitamin A, B1, B2, D, and E which are stalwarts of beautiful, healthy hair.
This shampoo is also touted to help in rejuvenating hair growth (especially for those suffering from hair loss), moisturizing dry hair and nourishing the scalp with the help of silk proteins and phyto-keratin. It helps to thoroughly cleanse the scalp and prepare the hair follicles to continue on their growth journey.
Here is a list of ingredients:
Aqua, Sodium Cocoyl Isethionate, Cocamidopropyl Betaine, Sodium Lauroamphoacetate, Sodium Methyl Cocoyl Taurate, Sodium Lauryl Glucoside Carboxylate, Lauryl Glucoside, Sodium Cocoyl Glutamate, Acrylates Copolymer, Coco-Glucoside, Glyceryl Oleate, Caprylhydroxamic Acid, Glyceryl Caprylate, Glycerin, Sodium PCA, D-Panthenol, Argania spinosa (Argan) Oil, Botanical Keratin, Prunus persica (Peach Kernel) Oil, Prunus dulcis (Almond) Oil, Simmondia chinensis (Jojoba) Oil, Camellia sinensis (Camellia Seed) Oil, Natural (Vanilla/Honey) Fragrance, Persea americana (Avocado) Oil.
You really can't go wrong with any product whose base is Argan Oil. One use and I am sure you will be glad you did! Especially when you find products which stay away from using parabens, silicones, and sulfates in their ingredients.
---

There is nothing better for your hair than finding a 100% natural and organic product – and this you can find in Christina Moss Naturals
Line of Hair Products.
 This shampoo is manufactured cruelty-free, uses a vegan formula, and is environmentally friendly. There are no harsh chemicals like SLS, SLES, PG, PG derivatives, parabens, sulfates, dyes, synthetic fragrance or petrochemicals. This brand is determined to stand up to its mission statement of 100% natural. Even the packaging is made with biodegradable labels and recycled plastic bottles for a better world for all to live in.
It is gentle on the hair and it nourishes without stripping, without leaving any type of build-up, and is perfectly safe for all types of hair – color-treated hair included. It is gentle enough for use on a baby and is also hypoallergenic. It lathers well and leaves the hair feeling smooth and silky to the touch. With oils like coconut, olive and aloe vera, it is no small wonder that the results would leave you with something to sing about!
Here is a list of ingredients:
Decyl Glucoside, Certified Organic Cocos Nucifera (Coconut) Oil, Certified Organic Olea Europaea (Olive) Fruit Oil, Certified Organic Helianthus Annuus (Sunflower) Seed Oil, Potassium Hydroxide (this is removed in the final product through the process of Saponification), Certified Organic Aloe Barbadensis Leaf (Aloe Vera) Juice, Citric Acid, Certified Organic Butyrospermum Parki (Shea Butter), Rosmarius Officianalis (Rosemary) Flower Extract, Water (Aqua).
Christina Moss Naturals' line delivers, let your hair enjoy this product and see the difference!
---

I love this shampoo – and the mission statement from the owners is just awesome. Mission statement – Natural, Gentle, and Safe. It was manufactured by four people with a vision to reduce the use of chemicals in the products that we use on our skin and hair.
The main ingredient of this shampoo is soapberry. Soapberry has been used for thousands of years in Ayurvedic dermatology, for use on sensitive skin especially with eczema, psoriasis because of its anti-inflammatory properties.
Soapberry has a pH of 5.5 which is gentle on the hair and helps to protect the natural oil (sebum) and reduce dryness, scalp irritation and dandruff. This product is 100% organic and does not have any SLS, Sulfates, Parabens, Triclosan, Silicone, DEA/MEA, and Perfume in its ingredients.
Here is a list of ingredients:
SAPINDUS MUKOROSSI (Organic Soapberry) JUICE, ALOE BARBADENSIS LEAF (Organic Aloe Vera) JUICE, DECYL GLUCOSIDE (from Coconut), EUTERPE OLERACEA (Organic Açaí) EXTRACT, MATRICARIA CHAMOMILLA (Organic Chamomile) EXTRACT, CAPRYLYL GLYCOL (From Coconut) & DIPROPYLENE GLYCOL & GLYCERYL CAPRYLATE (From Coconut), BUTYROSPERMUM PARKII (Organic Shea Butter), Lavender Essential Oil.
Because the shampoo has Olive Leaf – it helps to hydrate and moisturize the hair follicles; Gotu Kola – it is also another ayurvedic source which will improve the hair length and density while preventing irritation and dandruff; Chamomile – which is loaded with anti-inflammatory flavonoids and antioxidants and helps to nourish and soothe the scalp.
This soapberry shampoo
is safe to use on color treated hair for men and women. It is also dermatologist recommended for eczema, dermatitis, allergy and even hair loss. It is anti-bacterial, anti-fungal, and does not leave any oily residue.
One really great thing about this shampoo is that you can buy the unscented product and add any essential oil that you prefer to it before using. It is worth trying out and reaping the benefits of smooth, soft, and shiny hair.
---

This salon quality shampoo is luxurious proof that your hair can look and feel just as good as when you do take care of it at home. It is organic and moisturizing and you will feel the difference. It helps to strengthen the hair follicles, reduce frizz, moisturize and thus making the hair less prone to breakage.
Era Organics is packed with Amino Acids, Minerals, Hair Vitamins, Argan Oil, Aloe Vera, Kiwi Extract, Kukui Seed Oil, Marula Oil, Moringa Seed Oil and Meadowfoam Oil, all doing their job to help your hair look and feel its best! It is also made with a 9-in-1 hypoallergenic shampoo formula which is touted to strengthen, moisturize hair and scalp, fight frizz, and prevent breakage. The natural and organic shampoo ingredients are paraben free, SLS free, sulfate free, non-toxic and cruelty-free.
Here is a list of ingredients:
Aqua, Organic Aloe Barbadensis (Aloe) Leaf Extract, Organic Junglans Nigra (Black Walnut) Extract, Actinidia Chinensis (Kiwi) Fruit Extract, Sodium Cocoyl Isethionate, Coco-Betaine, Sodium Methyl Cocoyl Taurate, Sodium Cocoyl Glutamate, Sodium Chloride, Glycerin, Organic Argania Spinosa (Argan) Kernel Oil, Aleurites Moluccana (Kukui) Seed Oil, Sclerocarya Birrea (Marula) Kernel Oil, Lauryl Lactyl Lactate, Organic Quinoa Protein, Sodium Lauroyl Lactylate, Arginine, Polyglyceryl-4-Caprate, Lactic Acid, Organic Quercus Alba (White Oak) Bark Extract, Coco-Caprylate, Caprylic Acid, Guar Hydroxypropyltrimonium Chloride, Hydrolyzed Rice Protein, Sodium Polyaspartate, Diheptyl Succinate (and) Capryloyl Glycerin/Sebacic Acid Copolymer, Moringa Oleifera Seed Oil, Limnanthes Alba (Meadowfoam) Seed Oil, Aroma, Caprylhydroxamic Acid, Xanthan Gum.
Gentle on all types of hair including color treated tresses. This shampoo is also gluten-free.
---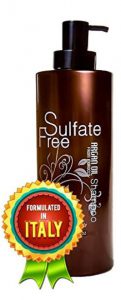 Bingo Sulfate-Free, 100% natural Moroccan Argan Oil shampoo
is worth having as a part of our hair stash! At the expense of being a product junkie, it is so hard to resist purchasing these fully organic hair products. It so much better for your hair and your health when the reduction or total elimination of harsh chemicals are present in the products that we use.
Argan Oil is so good for your hair and skin and as an active ingredient in this shampoo, it will help your hair to be moisturized, hydrated and regain its elasticity. It also acts a frizz-reducer and a hair thickening shampoo.
This shampoo doubles as an antioxidant, a UV-protector, and free-radical remover. It is sulfate-free, has no SLS, is 100% natural, and cruelty-free. It is ultra light, does not leave any build-up, and gently cleanses your hair. It can be used for all types of hair, including color-treated hair.
Here is a list of ingredients:
100% Pure Argan Oil, keratin, fatty acids, proteins and other nutrients. [I was not able to get a complete list of ingredients for this product]. This shampoo is formulated in Italy.
Sometimes it is sold along with its synergistic counter-part – hair conditioner. Using both products together creates a synergistic effect and you are more able to see better changes to your hair after consistent uses.

---

Who says that all shampoo products have to be liquid? Well, they are not. The Hair Dance Dry Shampoo Volume Powder 100% Organic  is a powder-based dry shampoo. It is more or less for the man or woman on the 'go'!!
It will help to keep your hair going a little longer before you can find the time to give it your TLC – tender loving care. It will absorb your hair oils and even make your hair fuller. It is a great travel mate for camping, traveling, after a heavy gym work-out, or just plain -hair emergency backup!
It is all natural, vegan, cruelty-free, and eco-friendly. It has no talc, parabens, or baking soda. Here is a list of ingredients:
Organic Oryza Sativa (Rice) Starch, Organic Colloidal Oatmeal, Silica (naturally occurring component in sand, clay, stone, and soil), Lavandula Angustifolia (Lavender) Oil, Organic Olea Europaea (Olive) Leaf.
It is good for all hair types, even color-treated hair, and different hair colors. Just ensure that you don't use too much and that you brush it out well enough. If this is your first time using a dry shampoo, then take it in small doses until you see how best it works for your hair. A little goes a long way.
---
8/The Wonder Seed Hemp Shampoo – All Natural And Organic
This unique mix of select natural ingredients: virgin organic hemp seed oil, organic aloe vera, ginseng extract, coconut oil, nettle extract, jojoba oil, cocoa butter, and others, puts the big "O" in its 100% organic label! 
It helps to nourish both hair and scalp and is gentle enough for your hair to not only replenish but to help relieve dandruff, itchy and flaky scalp issues, eczema, and psoriasis. It can be used on all types of hair and is color-safe for color-treated hair as well.
It is 100% toxin-free, sulfate-free, no parabens, gluten, or artificial fragrances. It is hypoallergenic and can even be used on babies and children. It is also a supporter of cruelty-free production and eco-friendly methods for its products.
Here is a list of ingredients:
Purified Water (Aqua), Virgin Organic Hemp Seed Oil, Organic Green Tea Essential Oil, Organic Green Tea Extract, Organic Aloe Vera, Ginseng Extract, Camphor Essential Oil, Glycerin (Vegetable), Borage Seed Oil, Lauryl Glucoside, Coconut Oil, Yucca Extract, Dermochlorella Extract (Seaweed Based), Nettle Extract, Coco Glucoside, Jojoba Oil, Awapuhi, Soluble Natural Plant Collagen, Wheat Germ Glycerides (Gluten Free), Echinacea Extract, Licorice Root Extract, Cocoa Butter, Ivy Extract, Soy Protein (non-GMO), Ascorbyl Tetraisopalmitate (Palm Based), Golden Seal Extract, Behenic Acid (Natural Plant Based), Guar Gum, Ylang Ylang Extract, Sea Salt.
The Wonder Seed Hemp Shampoo – All Natural And Organic
 Shampoo has so many great ingredients that this combination will indeed do you hair a world of good. The green tea extract is well-known as a preventive for hair loss and helping to promote hair growth. The amazing coconut oil, aloe vera, glycerin, and jojoba are all known moisturizers that will make any hair look and feel soft as well as moisturized. The fact that they are all working together in one formula just 'doubles' the effect!
It helps to soothe the scalp and make your hair soft. It will also help regulate the oil/sebum production on your scalp with regular use. The 'lather fact' is not as in regular shampoos, so don't expect it to be 'soapy', you may have to do a couple washes to get that 'squeaky clean feeling' – but in any event, it is a great natural and organic shampoo to try!
---

This shampoo is absolutely amazing. After the first few washes, you can feel the difference in your hair. It is so much softer and smoother to the touch. Undoubtedly, it has to be the Argan Oil and its other ingredients like the almond, jojoba, camellia, coconut, and avocado oils, and the botanical keratin which helps to make your hair feel the difference.
The oils are great moisturizers and the botanical keratin helps to smooth the cuticles and give that silky feeling. Its formula helps to hydrate your curls, and combat drying, as well as get rid of free radicals. It is GMP certified and FDA approved. It is sulfate-free and cruelty-free.
The shampoo is gentle enough to use on color-treated hair and all hair types. It is full of antioxidants and helps to replenish the natural hair cell structure while adding Vitamin E. Here is a list of ingredients:
Water (Aqua), Moroccan Argan Oil, Avocado Oil, Jojoba Oil, Camellia Seed Oil, Botanical Keratin, Almond Oil, Coconut Oil, Acyl Sarcosine, Cocamidopropyl Betaine, Sodium Lauroyl Sarcosine, GRECAT BTMS-350.
I would definitely recommend this shampoo for a trial run. Your hair will thank you times over for loving it so much. Baebody
is a beauty and lifestyle brand whose aim is to promote a natural, healthy and beautiful lifestyle. I can see their progress in this shampoo formula.
---

This shampoo is a specially-made formula to help treat scalp issues like dandruff, hair loss, hair growth, anti-aging, and damage repair. The natural herb sage is its key component which helps in the elimination of scalp issues such as dandruff. The general feedback about this shampoo is that it works, after a few consistent washes in its elimination of dandruff flakes.
It is a gentle shampoo and has no harsh ingredients, no sulfates, is cruelty-free, color-safe for treated hair, and vegan-friendly. Here is a list of the ingredients:
Aqua, Sodium Cocoyl Isethionate, Cocamidopropyl Betaine, Sodium Lauroamphoacetate, Sodium Methyl Cocoyl Taurate, Sodium Lauryl Glucoside Carboxylate, Lauryl Glucoside, Sodium Cocoyl Glutamate, Acrylates Copolymer, Coco-Glucoside, Glyceryl Oleate, Caprylhydroxamic Acid, Glyceryl Caprylate, Glycerin, Sodium PCA, D-Panthenol, Simmondia chinensis (Jojoba) Oil, Botanical Keratin, Salvia officinalis (Sage) Oil, Prunus persica (Peach Kernel) Oil, Nardostachys jatamansi (Spikenard) Oil, Melaleuca alternifolia (Tea Tree) Oil, Rosmarinus officinalis (Rosemary) Oil.
As its name implies, it is a very holistic way of caring for your hair using this natural and organic shampoo. The natural oils like jojoba, peach kernel, spikenard, tea tree and rosemary oils are such great oils that undoubtedly bring their 'worth to the table'! I use rosemary essential oil mixed in with my natural hair oils combination and I cannot 'rave' enough about the goodness of this particular oil. That being said, I might even be a bit biased towards it use in this shampoo.
---
My Final Thoughts
Choosing an organic shampoo can be a challenging decision. However, with this list, you have a place to start and maybe finish. These shampoos all have their individual advantages. One must make a choice based on what works best for your own hair. Of course, if you are not sure, then get a small or sample size bottle and test a few products.
You have to realize as well, that in order for any product to work, you have to give it time to do its job. I would suggest a time frame of about a month of use of any product in order to see if there is a 'friendship' established between your hair and that particular product.
Much success on your hair journey. And remember, when all else fails, you can always DIY and here is an article about natural shampoos and a few recipes to help you, HERE!!