My HotHeads Hair Brush Review 2020
Have you ever heard of HotHeads brushes? Well, let me tell you a little bit about them – I LOVE them. In this article – My HotHeads Brush Review 2020– I will be talking about 3 of the HotHeads brushes that I have been privileged to try and still actively use.
Now, I am sure you are wondering – what is the big deal? A brush is a brush is a brush – well, yes and in some cases, No. Hence my review.
What Is A Hair Brush?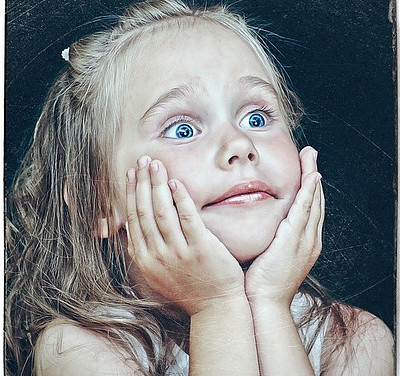 According to Wikipedia, a hair brush 'is a stick brush with rigid or soft bristles used in hair care for smoothing, styling, and detangling human hair, or for grooming an animal's fur. It can also be used for styling with a curling iron or blowdryer.' [1]
So in layman terms, it is a styling tool created to perform various functions for your hair. The bristles can be made of various types of materials:
boars' hair
plastic
metal
nylon
goat's hair
The handle can be made of:
wood
ABS plastic
polyacetal
It all depends on your needs and personal taste. Whatever you decide you need to keep the health of your hair in mind!
What Are The Benefits Of Brushing Your Hair
Well, when I was a little girl, everyone would swear that brushing your hair 100 times/strokes would make it grow like Rapunzel…and I believed and did try it out. My results – still not yet Rapunzel, but I do know what my hair needs.
A few benefits of brushing:
A wonderful massage for your scalp which in turn will help stimulate your roots and increase the blood flow to your scalp and with consistency helps stimulate growth.
It removes debris from your hair
It helps to distribute your own natural oil along the length of your hair strands
One way to keep your hairstyle in order especially with the application of hair care products.
I am sure there might be a few more, however, these are the more common ones thus far.
Best Way To Brush Your Hair
The best way to brush your hair is to:
bend at the waist while brushing the hair
lay on a bed or sofa (face facing upward) and brush
The trick here is to help the blood flow to the hair roots. When you invert your head, this naturally makes the blood flow towards your scalp and then the added benefit of brushing the hair/scalp, acts like a massage and you will feel energized once you return to an upright position. Your face might even be flushed as well.
It is also very important to use a good brush to get the job done. A hair brush with natural hair bristles would be ideal like boars' hair bristle is a great start. And like anything else, everything in moderation. Don't be too over-zealous to brush your hair and cause more issues than you care to have!
The HotHeads Hair Brushes
The brand story behind the creation of the Hotheads Hair Brush started out in an apothecary in Canada when two people – Patricia Coyne and her partner, Michael Victor Vecchiola – wanted to help others take care of their hair to the optimal standard. They sold more than 15 different types of brushes over time and was approached by clientele about making a hair brush that had these features:
Gentle
Light Weight
Ease of Use
Tangle Free
Painless
Performance on all Hair Types
and a Quality Finish to the Hair.
They took matters into their hands and the HotHeads Hair Brush was born, and I daresay, they have done a great job!
The shape of the brush is unique with what is called  Captive Ends because they hold the hair inside the barrel and this makes for no slipping off the ends and helps to organize the strands on the bristles. This feature also improves the performance of any hairdryer as it focuses the air between the Captive Ends and this definitely improves any dryer's performance.
The duo-team studied the effects of regular hair brushes and the effect of the air from a hairdryer (even with a nozzle) tends to move everywhere, not just over the barrel of the brush and this in itself increases the potential of FRIZZ – something no-one wants for their hairstyle.
The 3 brushes that we will be talking about are:
Speed Brush
The Enforcer Mr. Smoothy
Grooming Paddle Plus
Speed Brush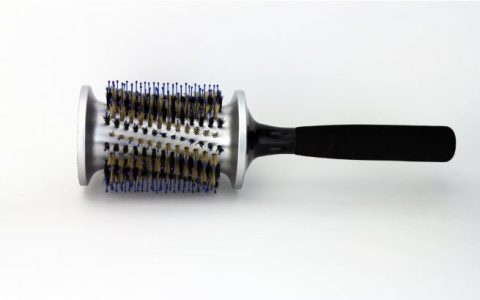 Now, this brush I ABSOLUTELY LOVE – all hands down. In all honesty, I thought this was all hype – you know, the usual descriptive marketing label to make you commit your funds to purchase. Well, was I in for a VERY pleasant surprise.
This Speed Brush is:
A patented brush which focuses on air and heat for quicker drying
3D bristle pattern which helps to prevent tangling
Reduces frizz
Increases your natural shine
Adds volume to your tresses
Makes your hair sleek and smooth
'Patented CAPTIVE ENDS™ directs air flow/heat over the brush reducing drying time.'
'Thermal Conductive Technology for faster heating and cooling'.
I decided to live on the adventurous side. I have naturally curly hair and sometimes I do blow dry it and then flat iron it for a smoother and sleek look – you know, change it up a bit – every woman's prerogative.
So, I did my usual cleansing and deep-conditioning routine for my hair care.
I then tee-shirt dried it to remove the excess water. I applied a small amount of my homemade leave-in conditioner, separated my air into small manageable sections and then proceeded to start the blow drying process.
Now, I am pro when it comes to my personal hair care. And, in the past, the brushes that I have used to blow dry my hair, did NOT come even close to what the HotHeads Speed Brush did to my hair.
I kid you not!
As I used the brush to dry my hair, I noticed that my hair was indeed smoother and somewhat straighter. I was already blown away in just one section. Of course, not so easily convinced, I said I will wait till I do my whole head.
Well, truth be told, once I was finished with my entire blow drying process, I was VERY impressed with the results. My hair was indeed smooth, shinier, and straighter. I was inclined (and I did) skip the flat ironing. Yes, it was noticeably different.
So, at the risk of being biased, yes, I think this brush is worth its weight in gold. It does just as it says it would.
I even used it on my daughter's hair and she has waist-length tresses, and same thing – smooth, straighter, and so much better. Oh, and yes, it did take me less time to blow dry my hair.
The Enforcer Mr. Smoothy

For starters, I love the playful name – Mr. Smoothy – reminds me of a 'smoothie' however, I get the allusion – smooth surface.
Mr. Smoothy:
Can be used for all types of textures
Has a 3D pattern which helps reduce tangles
Fights frizz
Increases shine
Smooths your strands
'Patented CAPTIVE ENDS™ directs air flow/heat over the brush reducing drying time.'
'Thermal Conductive Technology for faster heating and cooling'.
So, once I finished using the Speed Brush, I then proceeded to gently brush my hair with this brush. I guess you could say that it was like 'icing on the cake'. It seemed to further smooth the cuticle and increase the shine. It was noticeable.
I then added a little coconut oil to bring the sheen up one notch more. I loved it. At this point, I toyed with the idea of continuing my hair process by finishing with the flat ironing part. I finally decided not to. My hair looked that good!
Normally, it is never this smooth after using a brush and I was simply impressed. I decided to just go with the flow at this point. I would go all the way the next time. I suspect that using the flat iron would make my tresses even straighter than it was and for me, it was necessary this time as I was not 'going anywhere'.
Grooming Paddle Plus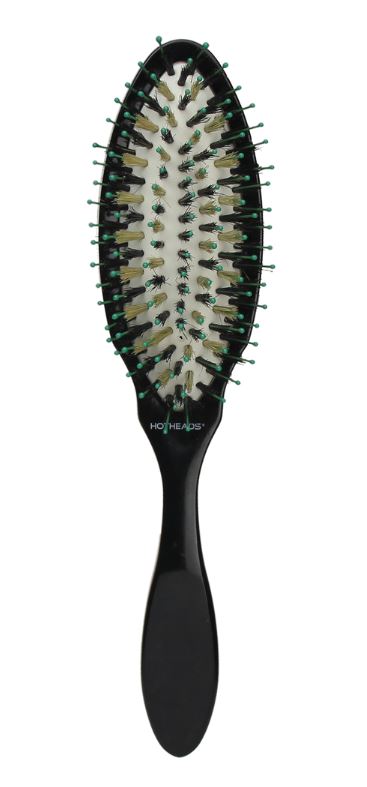 Ideally, I prefer not to use too much heat when it comes to my hair care, so I usually just let my curls dry naturally on their own. Of course, when I decide to change things up a bit – that 'different look' feeling – I will pull out all the stops.
This Grooming Paddle Brush:
3d bristles – 1/soft nylon for 'easy detangling and penetration to the scalp'; 2/'natural black boar for adjusting tension'; 3/ natural white boar for increasing shine. A great combination of being gentler on your hair. All-natural fibers.
Adds volume
Can be used on wet or dry tresses
Ergonomically designed to make it easy on the wrist while using
Controls frizz
Improves 'micro circulation and exfoliate the scalp'
I did not use this paddle brush on my wet hair because I prefer to allow it to dry naturally or using an old tee-shirt. I did use it once dry and I found its massaging effect a welcome touch.
I did appreciate the fact that it's light and really easy to 'handle'. It almost felt 'feather-light'. It has a great feel to it. I did use it on my daughter's hair when it was wet, and I found the 'comb-through' manageable.
My Final Thoughts On My HotHeads Hair Brush Review 2020
In all honesty, I loved the brushes. I still use them and have no qualms in making a recommendation for them as a new tool in your hair care arsenal. I think it will be a welcomed change and a surprising one too.
I think the patented feature – the 3D bristles design – is indeed a winner thus far.
Please leave any feedback once you have 'taken the plunge'!
Updated August 2020
REFERENCES:
[1] Wikipedia
---
Images courtesy of HotHeads Hair Brush, Pixabay, UnSplash, and Pexels.
Do you know that the more you use your brain, the better it is for you? AND, the more difficult it becomes to get 'old'? Yup, the brain is really a 'muscle', and the more you 'exercise' it, the better and stronger it becomes. With that said, let's see how we can make the brain better.
How about that second career? Ever thought about writing? Or even have someone write for you if you think this would be a better alternative? Well, how about creating your own website? Letting your voice be heard…without actually talking…but using words online. We all have a story within us…what's yours?
The time is NOW, step out into the world of possibilities…do something different and discover new horizons. It is not difficult and certainly easy when you know the way to do it.
Let me introduce you to Wealthy Affiliate, the place where I learned how to create a website and 'let my voice be known'. This is where I learned how to create my own blog and connect with people who helped me along the way.
Get your free hobby makeover guide I created to help you get started.
In it, I will tell you:
When you learn how to create your own blog, you get to choose the things that you write about. You can also use the blog to make extra income.
Make Another Dream A Reality – Get Your FREE Hobby Makeover Guide TODAY – It is your motivation to make a new start in your life…no matter where you are – geographic location is NEVER a problem either, especially when you live the laptop lifestyle.
Photo by ThisIsEngineering from Pexels