How Does Keratin Treatment Help Your Hair?
Having a keratin treatment can mean  a world of difference for some people – whether male or female – and this article will explain what keratin is and how it can make the difference for you and your hair.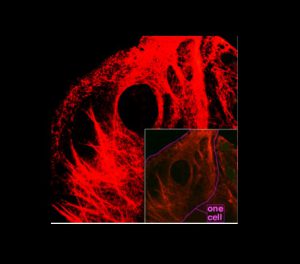 According to Wikipedia, keratin – 'is one of a family of fibrous structural proteins. Keratin is the protein that protects epithelial cells from damage or stress. Keratin is extremely insoluble in water and organic solvents. It is the key structural material making up the outer layer of human skin. Keratin monomers assemble into bundles to form intermediate filaments, which are tough and form strong unmineralized epidermal appendages found in reptiles, birds, amphibians, and mammals. The only other biological matter known to approximate the toughness of keratinized tissue is chitin.'[1]
SO, in layman terms, it is a structural bond of protein which protects a cell. We need keratin for our skin, nails, and hair. Keratin is made up of 18 amino acids, and one very important one is called cysteine which is rich in sulphur and helps in the cohesion of the hair.
Keratin is like a rope which is intertwined with fibers of cells which elongates and then pushes through the skin to form the structural hair follicle. Inside the hair, there is the cortex, the keratin bond is organized into protofibrils, composed of 4 chains of keratin. This is held together by bonds of hydrogen, ionic, and sulphur between the atoms and the various chains. This is just to give you an idea without delving too much into the chemistry of the hair follicle.
Here are two books on Keratin that might be interesting for all the chemists among us reading this article:
1/Keratin: Structures, Properties, and Application
2/ Keratin and Keratinization; an Essay in Molecular Biology
---
HOW DO WE GET KERATIN FOR OUR BODY?
Keeping our bodies in tiptop health should be our primary concern. One way to do that is to ensure that we pay attention to our nutritional needs. Let's look at some of the ways we can help our bodies to produce the keratin it needs on a daily basis.
TIPS FOR KERATIN PRODUCTION
1/Ensure that you maintain a protein-rich diet. The protein helps to provide the amino acids needed by keratinocytes to produce keratin naturally. Eat lean meats, fish, yogurt, and low-fat dairy to boost your body's keratin production and have better nails, skin, and hair.
2/Eat iron-rich foods. Iron helps to provide the red blood cells take oxygen to the hair follicles as well as to the tissues that need iron. Great iron-rich animal protein includes turkey, chicken, duck, pork, shrimp, eggs, lamb and lean beef. Plant iron-rich protein includes beans, soybeans, tofu, black-eyed peas, and lentils.
3/Vitamin C helps with the absorption of vegetarian-based iron, ensure that you consume vitamin C foods at the same time you eat vegetable-based protein. Vitamin C-rich foods include broccoli, peppers, kale, papaya, brussels sprouts, oranges, lemons, and strawberries.
4/Increase your intake of B vitamins. They are essential to create red blood cells. These include wild salmon, trout, shellfish, bananas, lentils, garbanzo beans, fortified whole-grain cereals, chicken breasts, and pork tenderloin. There are also foods with folate like oatmeal, spinach, beets, parsnips, broccoli, okra, and soybeans.
5/Remember foods with zinc like oysters, crab, pork tenderloin, veal, chicken, peanut butter, and chickpeas. Zinc helps hair and tissue growth and also repairs and maintain the oil glands that are around the hair follicles.
NOTE
Remember that the foods you eat now will only show the difference in your hair in about 6 – 12 months. The growth and renewal process takes time. Increased keratin will result in stronger hair.
---
TYPES OF KERATIN TREATMENT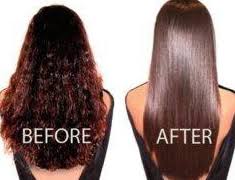 Years ago, keratin hair treatments were the 'talk of the day' to get straight and healthy hair to withstand the effects of the elements. However, the whole keratin process got a 'bad rap' because of the amount of formaldehyde being present in its composition. Subsequently, the FDA and Occupational Safety and Health Administration (OSHA) have looked into formaldehyde levels in some of these products used for keratin treatments.
A keratin hair treatment is supposed to help strengthen your hair – more of a restorative treatment process which is supposed to help make your hair more resilient. However, what might be damaging to your hair while doing the treatment, is the heat from the flat iron used to seal the product into your hair. It happens when the flat iron is too hot and scorches the hair thereby making the hair break from all that stress and heat. Keratin treatments won't make your hair break, but the flat-ironing might.
A TYPICAL KERATIN HAIR TREATMENT
How It Works:   The hair is cleansed and then a keratin hair-straightening product is applied to your hair. This product is then sealed with the help of a flat iron. The process can take about 90 minutes or longer, depending on the length of your hair.  Well-known salon keratin products include Keratin Complex Smoothing Therapy by Coppola, Global Keratin Complex, the La-Brasiliana treatment, Brazilian Keratin Treatment, the Brazilian Blowout, and Brazilian Hair Straightening.
Once the process is finished, it is suggested that you wait a few days, say 3-4 days before you cleanse/wash your hair after the treatment. The reason for this being that it takes some time for the solution to work. Once the wait time is over, then it is suggested that you cleanse your hair with sodium-sulfate-free shampoo to help maintain the treatment. The results should last about 2- 21/2 months.
MY EXPERIENCE WITH A SALON KERATIN HAIR TREATMENT
A few years back, about 15 years, when I was a relaxed girl, I decided to do a keratin treatment. Of course, in those earlier days, it was the rave and not enough information, yet 'crazy' expensive.
I decided to get my keratin treatment done in Buenos Aires, Argentina on a business trip as I had a few hours downtime and would do anything in the name of beauty – and of course, luxurious hair. Now the good thing about this was that it quite inexpensive in comparison to what the pricing was like in New York, USA.
As my trip was planned way in advance, I already had about 4 months of new hair growth to work with – it was being said that this process could only be done on 'virgin hair' and so, I figured that this should 'fit the bill. I had about 2 inches of new growth since my last relaxer retouch.
I was excited. The thought of having bone straight hair, reduction in styling time, all-weather hair, was making me dream dreams of constant 'good hair days'!
I arrived at the salon and was ready for my appointment. Off course, my Spanish was non-existent and fortunately, I had someone who was able to interpret which hair process I wanted to be done. And so I sat in the hairdresser's chair and allowed him to perform magic on my hair.
The product smell was harsh and invasive. As I sat there, I started asking myself, "What on earth am I doing to myself, my lungs, my hair?" And then when the blowdrying process started, "Oh my God, the heat!" I got 'scorched a few times on my scalp and neck just to be beautiful. Now, looking back, I shake my head and sigh, 'Never again!"
Once the whole process was done, the hairdresser offered to 'trim' my hair ends, I consented and watched him like a hawk watching her babies. You know how hairdressers are known for their inability to decipher between a trim and a haircut due to 'trigger-happy fingers syndrome'. It turned out ok.
I must admit that when it was all said and done, he had indeed done a great job, despite my burn marks to prove the 'beauty ordeal'. As everyone knows, the true result can only be graded by how many compliments that you get from others about your hair.
On my way home, I got a few. I felt great. As the cliche goes – beauty feels no pain. Once I got home, I must admit, I was anxious to 'test' the veracity of the product and could hardly wait until the 4 days were past. I washed my hair and proceeded to blow dry it. Not surprising, the results that I had in the salon, were nowhere to be seen in my bathroom mirror.
Oh well, those are the breaks. For the next few weeks, I kept trying, but without much success. I vowed that I would not do this process again and to date, I haven't. I must also admit that I did not use a non-sulphate shampoo and conditioner – I did not know then, that I needed to do that. I guess that got lost in translation.
---
AT HOME KERATIN TREATMENT
Nowadays, there are a lot of keratin home-kit treatments. They probably won't last as long or seem as defined as when done at a salon. Most home-kits do not affect the bonds in the hair so there is minimal damage. They tend to just coat the hair with a barrier, like silicone, to help prevent humidity from entering the hair shaft.
As a matter of fact, the main damage that you will get with the home kits, like Tresemmé 7 Day Keratin Smooth Heat Activated Treatment
, comes from the heat of the flatiron. The results last for a week and the price won't break your bank account. Typically, a salon treatment can run anywhere from $200.00 and upwards.
---
ALTERNATIVES TO KERATIN TREATMENTS
Of course, there are other ways around doing the traditional keratin hair treatment. You just have to be careful what the hairdresser suggests when he/she refers to any type of hair-smoothing process. It is best to be free of formaldehyde.
Something to consider is this – the hair treatment will probably not be completely formaldehyde-free – because effectively, it is a gas. What might be in the product are methylene glycol, formalin, methanal, and methanediol — ingredients that release formaldehyde when heated or mixed with water.
Because salons are not regulated by the FDA, you have to be careful if you would like to have a formaldehyde or formaldehyde-releasing ingredients in any product you may choose to do the job.
There are now formaldehyde alternatives or hair -smoothing treatments. A few examples are:
1/Goldwell Kerasilk
2/Trissola Solo
3/Supersilk Smoothing System
4/Cezanne Perfect Finish
These products use glyoxylic acid (or a derivative of it) to lock the hair into a straighter position. There's also the Keratin Complex Treatment
, which touts itself as a personalized blowout with no downtime, and has been around for the last 10 yrs.
The good news: they are 100% formaldehyde-free.
The bad news: they are not quite as powerful as the toxic alternative.
The results don't usually last more than two or three months, and these treatments won't dramatically soften your curl pattern the way formaldehyde solutions can. They don't 'straighten' your hair, it is a more of a 'smoothing of the curl pattern' treatment.
Natural Hair Products With Keratin
Keratin hair treatments are not the only way you can topically apply keratin to your hair. You can give your hair an awesome boost of protein by purchasing natural shampoos, conditioners and hair treatments that contain keratin. By using these keratin-rich products regularly, you can get the smoothing, reparative and even straightening benefits of keratin minus the questionable ingredients that are in the majority of salon hair straightening treatments.
You can also make your own Natural Homemade Shampoo and Homemade Hair Conditioners along with other natural hair products.
 Homemade Hair Masks
Are you wanting the softness and smoothness that comes with a keratin treatment, but from the confines of your home? Then, here some suggestions to help you achieve that without any harsh ingredients. They will nourish your hair naturally and will make your hair feel silk, look shinier, softer, but the experience may not last as long or until your next wash day.
Some great recipe ideas:
You can get even more creative by combining moisture sources like olive oil, honey, or avocado with protein sources like eggs, gelatin, yogurt or whole milk – all from your kitchen at home. Make any concoction that you feel so inclined to do, by trial and error, you will find one that works the best for your hair. And, as you make it a consistent routine, you will reap the benefits of smooth, luxurious, and healthy hair.
There are also essential oils which help to make your hair grow faster, stronger, and healthier. They can even reduce frizz as well as reduce inflammation of the scalp. Using rosemary, cedarwood, and sage are 3 top essential oils for hair growth. You only need to add to your shampoo or conditioner and use it regularly to see the difference.
 Coconut oil is another great hair tamer. It helps to reduce frizz, strengthen, reduce hair breakage, and protect your hair from direct heat sources as well as environmental stress. Just add to your conditioner, shampoo, or even use it as a hot oil treatment to help smooth the cuticles as well.
---
READING THE LABELS
I was never a label reader until a few years ago when I became a natural curly hair girl. I now take the time to look at the ingredients on a product before I purchase or if I have the time, I will look it up online. What would we do without computers in our world today?
There are still keratin hair treatments around which may have a lower percentage of formaldehyde, but it still is there despite the side effects that can occur from exposure like:
1/eye irritation
2/rashes
3/headaches
4/breathing issues
5/nausea
6/vomiting.
This affects the salon workers more than the customer as they are constantly working in its fumes.
If you choose to buy straightening products, read the label and stay clear of these ingredients: formaldehyde, formol, formalin, methanal, morbidic acid, formic aldehyde, methyl aldehyde, oxymethylene, glutaraldehyde, (glyoxal) ethanedial n-octyl aldehyde, aldehyde C-8, or caprylaldehyde.
---
BENEFITS OF KERATIN
As far as I can see, there are not too many benefits to getting any kind of keratin hair straightening process. However, I have outlined a few pros and cons to help you make an informed decision. You can also read this article about other non-invasive treatments for not only the hair but the skin as well.
PROS 
makes your hair soft
makes your hair shiny
cuts down on blow-drying time and general styling time (especially if you are the blunt-cut bob style gal)
reinforces the protein bonds in your hair to help strengthen strands
lasts for 2-3 months
CONS
this process uses a lot of heat and this can compromise the strength of your hair
they usually contain formaldehyde which is toxic. The chemical can cause immediate, short-term irritation of the eyes, skin, and upper respiratory tract. The longer-term risks of exposure are more troubling: The Environmental Protection Agency and federal OSHA classify formaldehyde as a suspected human carcinogen because of its links to nasal cancer and leukemia; the International Agency for Research on Cancer considers it a known human carcinogen. "I would not recommend use of any product containing formaldehyde," says Martyn Smith, PhD, a toxicologist at the University of California at Berkeley. "All products containing it should be banned."
keratin hair treatments are unregulated so there is no way of knowing the percentage of formaldehyde in any product used – despite the label – if you can find one
it's unlikely these treatments could live up to their claims without formaldehyde and the other ingredients like methylene glycol, and formalin which become formaldehyde gas once they are heated or dried with the heating process
there are also some at-home 30-day hair-smoothing kits (like Liquid Keratin and Organix Brazilian Keratin Therapy) which  use biformyl, also known as ethandial and glyoxal, to bond conditioners to the hair. This aldehyde is not classified as a carcinogen, but it has significant toxicological concerns, including skin, eye, and respiratory tract irritation.
it can contribute to breakage due to overuse of heat and the high degree of heat used to bond the product to the hair
is not permanent, has to be re-applied every few months because, over time, the hair will return to its natural texture
can be expensive depending on the salon you choose to have the process done


---
MY FINAL THOUGHTS ABOUT HOW DOES KERATIN HELP YOUR HAIR
Well, based on my own personal experience of years past, I will not be in a hurry to do any kind of keratin process (at the salon or at home) in the search for smooth, straight, and shiny hair – especially now as I have gone all natural and simply LOVE seeing, feeling, and styling my curls.
There are many homemade natural or premade hair products that can help you to achieve smooth, silky, softer, and healthy hair. There are also hair techniques that can further help your goal. It all comes down to doing your research, making the time to do the best for you and your hair health.
I hope that you have found this article useful and helpful as you find the best process to keep your hair healthy on a constant basis. I would love to hear your feedback and much success on your hair journey.
---
Books About Keratin
Keratin Hair Straightening: A Quick and Dirty Guide
(Guru Guides Book 1) Kindle Edition
REFERENCES
[1] Wikipedia
How would you like to learn how to write an article like this one? To put your thoughts on paper or the web, and allow others to learn from you by having your own blog?
It really is not too difficult to learn.
Even more interesting is the fact that you get to choose your topics and maybe by using affiliate marketing, make some extra income. In addition to this, you will be in the company of many others like yourself who will be more than happy to help you on your journey to success.
CLICK HERE and see what it is all about!
[Article updated March 2019]