Black Castor Oil or Coconut Oil Microfiber Hair Turban Towel For Anyone?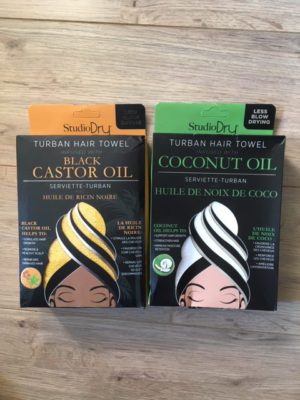 What exactly is a microfiber hair turban towel? And what does it do? And what's up with the black castor oil or coconut oil? A few questions that I will provide answers for you! Let's get rolling!
What is a Microfiber Hair Turban Towel?
For starters, this is just a simple yet efficient way to dry any type of hair texture – hands-free! The magic of this method is that it is completely – yes, completely and effectively – absorbs 95% of the water from wet hair.
I know because this has been my experience…and I thoroughly recommend it. The one microfiber hair turban towel that I can vouch for without flinching is that by Studio Dry – it is awesome, especially with their exclusive touch infusing castor oil and coconut oil 'to boot'!
Microfiber[1] is a synthetically-produced material made mostly from polyester and nylon, although it can include other fibers such as polypropylene and trogamide, depending on the final use of the fabric.
Microfiber gets its name from the fact the threads used in the creation of the material are less than ten micrometers in width, making them smaller than a strand of silk.
These fibers exhibit water-binding activities similar to cotton, making microfiber exceptional for use in quick-dry toweling, performance gear, and other moisture-wicking products.
Microfiber can take on different jobs — from absorbing liquids to cleaning dirt and germs, depending on the materials used to create the fibers and on the fibers themselves. Split fibers are the right microfiber material for absorption while whole fibers are more useful for a soft dusting or polishing cloth.
Here is a nifty way to test the quality of any microfiber product if it is made of split or whole fibers. What you can do is to put one edge into some water. If the water is quickly absorbed, you have split fibers that are great for moisture-wicking.
If the cloth pushes the water ahead of it (can't think of a way to describe the experience), your microfiber product is made of whole fibers and is more suited to dusting your end tables than wicking water from your tresses.
Benefits Of Using StudioDry's Microfiber Hair Turban Towel
Of course, this StudioDry Infused Microfiber Hair Turban Towel review would not be complete if I did not talk about the advantages of using either of the microfiber turban towels with Black Castor Oil or Coconut Oil.
Main advantages that I found were:
extremely absorbent – it 30-45 minutes to dry my daughter's shoulder-length hair. I washed her hair and then made about 6 two-strands twists and then wrapped her hair using StudioDry's infused hair turban. She loved the Black Castor Oil 'flavor'. It left her tresses 95% dry and with a wonderful scent and somehow, sleek shine.
anti-frizz – the hair dried with cuticles closed because the strands were not 'roughened' during the drying process.
sheen – the black castor oil acted as a mild infuser and achieved a slight yet obvious sheen to her hair. Further use of the Coconut Oil infused turban also yielded the same results.
softness – her tresses were also softer after the drying process.
fullness – because my daughter's hair was allowed to dry without 'agitation or any stress' using heat styling appliances, this turban gave the hair a fullness to it. My daughter's hair blossomed with volume after we un-did the twists and allowed her hair to finish drying completely.
helps reduce hydral fatigue – a 'busy' term but it simply means that it reduces the excessive water in the hair which might cause the hair strands to be stressed by too much water. The microfiber helps absorb the excess water and acts as a balance for each hair strand that it protects/covers.
portability and light on the head – you can wrap your hair and keep doing whatever tasks at hand that you need to do. It is still a stylish head-dress – even though I would not 'willingly' hop in my car to go to the store if I decided to…lol. It is not 'heavy' per se and is very light, you really don't feel the discomfort of a 'heavy towel' wrapped on your head.
easy to care for – simply washing the hair turban in cool water will do the job – either by hand or machine washing. My suggestion is by hand. The gentler, the better to help extend the life of the microfiber.
What's Up With The StudioDry Black Castor Oil and Coconut Oil Infused Microfiber Hair Turbans
Well, to be completely honest, I have used microfiber towels before, also by StudioDry, you can read more about their StudioDry Quick Pile-Dry Hair Towels. I love their hair products, so please excuse my 'hair-bias'…but the truth is namely this – once you find a product that works wonders for your hair and that does a lot to preserve the quality of your hair, you will 'toot the horn' every time!
Using Black Castor Oil or Coconut Oil for your hair health is a great decision. Both oils are great for your hair and if you can find a way to immerse the goodness of the oils every time, then my question is – why not!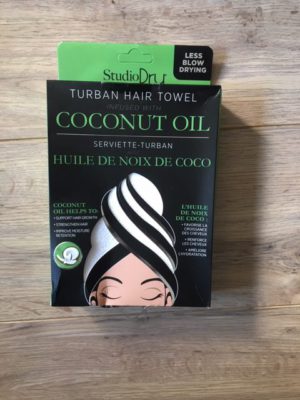 Both oils will provide:
sheen & closing of the cuticles – and that overall healthy look for your hair strands
protection from the elements by providing a coating for your strands
moisture – provides a softening agent for the hair
And even more – the smell – I would say an additional bonus because these oil-infused microfiber hair turban towel also smell GREAT!! They a soft and calming scent as you wear it while your hair dries and even after your hair is dry, there a gentle and in no way over-powering aroma.
I have found the 'ideal hairdryer' for my hair as well as that of my daughter. You should give the StudioDry Black Castor Oil or Coconut Oil Microfiber Hair Turban Towel a try and who knows, you just might find another staple for your hair arsenal.
REFERENCES
[1] Wikipedia
Images courtesy of Pixabay, UnSplash, and Pexels.
Do you know that the more you use your brain, the better it is for you? AND, the more difficult it becomes to get 'old'? Yup, the brain is really a 'muscle', and the more you 'exercise' it, the better and stronger it becomes. With that said, let's see how we can make the brain better.
How about that second career? Ever thought about writing? Or even have someone write for you if you think this would be a better alternative? Well, how about creating your own website? Letting your voice be heard…without actually talking…but using words online. We all have a story within us…what's yours?
The time is NOW, step out into the world of possibilities…do something different and discover new horizons. It is not difficult and certainly easy when you know the way to do it.
Let me introduce you to Wealthy Affiliate, the place where I learned how to create a website and 'let my voice be known'. This is where I learned how to create my own blog and connect with people who helped me along the way.
Get your free hobby makeover guide I created to help you get started.
In it, I will tell you:
When you learn how to create your own blog, you get to choose the things that you write about. You can also use the blog to make extra income.
Make Another Dream A Reality – Get Your FREE Hobby Makeover Guide TODAY – It is your motivation to make a new start in your life…no matter where you are – geographic location is NEVER a problem either, especially when you live the laptop lifestyle.
Photo by ThisIsEngineering from Pexels