NJoy Hair Growth Oil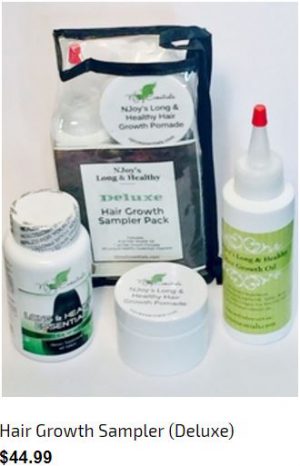 I was introduced to NJoy Hair Growth Oil by NJoy. Read the interview I did with her here.
She claims, along with others who have left reviews on her website, that this oil is a very amazing product especially when it comes to hair growth and regrowth. I decided to put it to the test. Sporadically, she runs a hair growth challenge for 90 days and so I ordered a promo package which came with the hair vitamins, free hair pomade sample, and the hair growth oil. I was so excited to begin using the products with my eye on the prize – more luxurious hair!!
Sample reviews taken from her website:
http://njoyessentials.com/njoys-hair-growth-oil-reviews/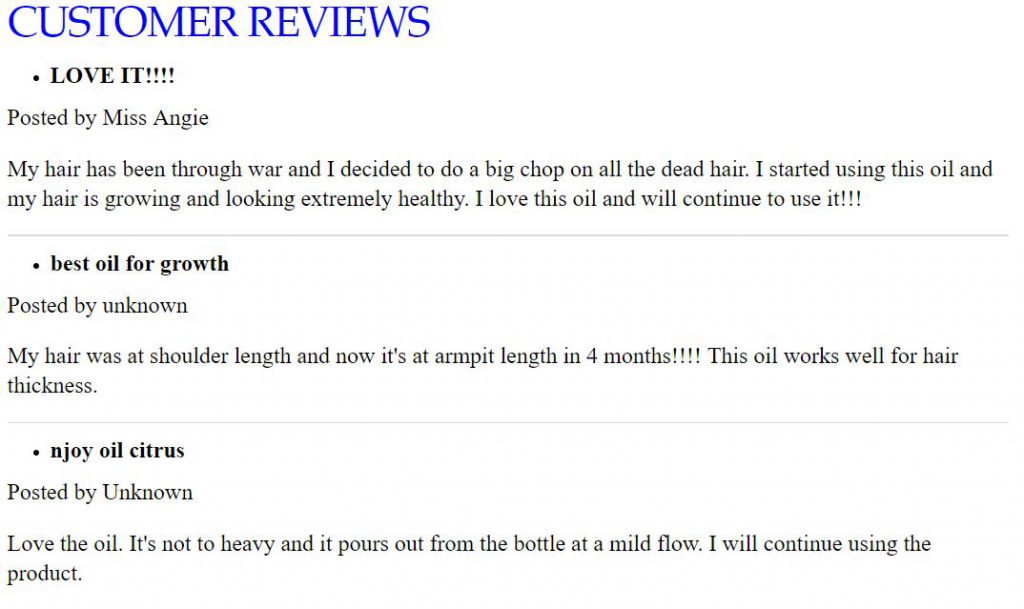 Of course, like anyone else, you get so 'pumped up' reading the success of others. I was motivated, to say the least.
Description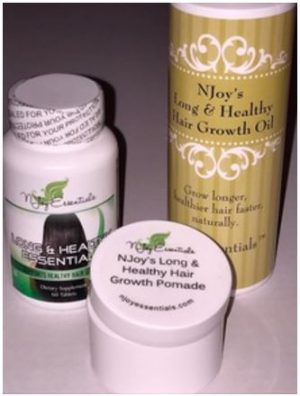 I bought the sampler package which came with the 8ozs hair growth oil, a 30-day hair growth pill bottle, and a cute little 1oz pomade sampler.
The hair pomade was a sort of reddish-orange color and nice consistency – creamy. What I noticed over time, was that the oils would filter to the top of the product. Not an issue, I just had to mix it around with my finger before using. Once I applied it, it had a nice tingle to it which I liked. The smell was not repulsive.
The hair growth oil was also that same color as the pomade. There are two mixes – one with sulfur and one without – I chose the one without. The flavor I bought was a citrus one – Citrus Burst. It comes in other scents as well:
original scent
citrus burst
floral fantasy
mint chocolate
tranquil sleep (new)
Not too bad on the nostrils. Once applied to my scalp, there was a slight tingle to it as well, which I like. Its sensation reminds me of a little scalp massage.
The hair vitamins were green in color and big. I did not like this, however, it was a process and so I gulped them down with water.
How To Use
For the hair pomade, you apply (while massaging the scalp) daily to freshly cleansed hair. If not, you should at least apply 2-3 times per week.
With the hair growth oil, you apply it to the scalp, cover your hair with a plastic cap and allow to penetrate for an hour or overnight. Then cleanse and style as usual.
There is also the option to just apply it to the scalp and leave it on. You can do this 2-3 times in a week. Of course, you need to massage the product into the scalp with each application.
The hair vitamins are to be taken daily with a meal. The serving size is 2 pills.
Benefits Of The Products
The products have a lot of touted benefits. They claim to:
increase hair growth or regrowth of hair
makes your hair softer
promotes longer hair
makes your hair stronger
Who Is The Product For
These hair growth products are for anyone who wants to improve their hair growth – man or woman, young or old, as well as for those customers who may be having trouble with hair regrowth.
Of course, I suspect that the products are also for the curious minded and the skeptics who might feel otherwise.
Pricing
I found the prices reasonable, especially with the promotion code. In all fairness, I think that even the 'normal' prices were not too bad in comparison to other hair growth formulas.
I found the hair vitamins a bit expensive but I guess when you want synergistic results – using all the products together – then you might want to sacrifice a few extra dollars to see what the hype is all about.
My Final Thoughts About Njoy Hair Growth Products And Challenge
I joined the 3-month hair challenge, even though I received my products one month after the start. Here are the things that I loved and things that I did not love:
I loved the Facebook Page where the members on the challenge checked in occasionally.
I loved the idea of an online hair journal which I did use, however infrequently. I did keep notes at home on the traditional paper with a pen.
I loved using the hair pomade because of the 'tingle' factor.
The growth oil was not bad even though it messed up my pillow the first night I slept with it in my hair – the following nights, I covered my pillow with a towel and covered my hair with my silk head wrap.
I did not like the size of the pills and it was a 'hard' swallow for me, yet, I took them because I wanted to see results.
Now The Magic Question: Did I See Results?
I used the products according to suggested guideline 80% if the time. When I measured my hair for growth checks, in 2 months, I did not find any special growth per se. Yes, there was growth. My growth showed more in the middle sections of my hair while the sides, front, and back were my normal ½ inch per month.
I am still using the products until they are finished, even though the growth challenge is finished. I think the products are great. I don't know if I will repurchase, or maybe I will only do so when there is a promotion.
My recommendation is that you can give it a try if you are not a budget. Maybe even join the growth challenge and be consistent.
However, to increase your hair growth, it is not just about:
the external applications but the internal factors as well
a healthy diet
paying attention to your water consumption
be consistent with healthy eating habits for great health of body and hair
maintaining a consistent hair regimen based on your hair needs
Give Njoy Hair Growth Oil a chance to make your hair softer, longer, and healthier. Let me know your results when you do. This review is my own decision and in no way an affiliate of the product.
Thanks for reading.