[List]10 Best Beard Oils And Balms For Men 2020
What Is A Beard?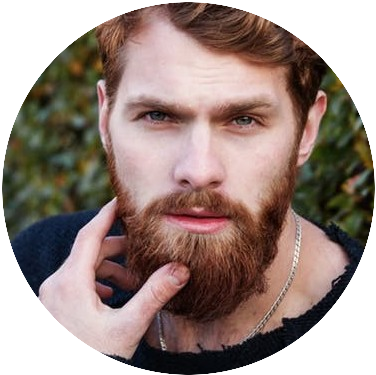 Have you ever wondered about the best beard oils and balms for the man in your life? Let's take a closer look. Ok, so we all know what a beard it, right? Well, those of us who cannot quickly identify with what a beard is, take a quick look at the image above, and then continue reading.
According to Wikipedia, a beard 'is the collection of hair that grows on the chin and cheeks of humans and some non-human animals. In humans, usually only pubescent or adult males are able to grow beards. From an evolutionary viewpoint, the beard is a part of the broader category of androgenic hair. It is a vestigial trait from a time when humans had hair on their face and entire body like the hair on gorillas.'
Well, to put it in layman terms, a beard is simply excess hair found growing on a face in the chin and cheek area on any man or woman – yes, there are some women with a predisposition to growing facial hair due to their testosterone hormonal level.
In any event, we will be talking about the best oils and balms for men and that anyone with a beard may find it useful to take care of their facial hair.
Types Of Beards
Before we discuss our list of best beard oils and balms for men in 2020, take a look at the image below to see the various types of beards that we can find. Of course, with so many technological advances in the type of equipment that can be used to shave, having a beard can be even more creative with interesting styling results.
Different types of beards: 1) Incipient 2) Moustache 3) Goatee or Mandarin 4) Spanish Style 5) Long Sideburns 6) Sideburn Joined By His Moustache 7) Style Van Dyke 8) Full Beard.
So, now that we know what a beard is, let's see how a beard oil or a beard balm is defined.
---
What Is A Beard Oil Or Balm?
A beard oil or beard balm (generally referred to as a conditioning leave-in) is just another way to keep the bearded area moisturized. The variance in both products comes in the consistency. With the oil, it is more in its liquid original form while with the balm, it is more of a paste or very thick consistency.
There is also the beard wax which is more like a stiffening agent to keep the hair in place, for example, men who sport long curved mustaches tend to use a beard wax to help their mustaches keep the 'upward' motion of its style design!
Benefits Of A Beard Oil Or Balm
There is a lot to be said for the necessity of this product – conditioning. Not every man who sports a beard uses beard conditioning, however, here are a few points why he should:
like the hair on your head, it needs to be moisturized
the underlying skin of the beard needs to be moisturized – just like the scalp
too dry beard skin area will result in dry skin or 'beardruff' as some people have called it
too dry beard skin can cause itching and discomfort
improper cleansing and drying of the bearded can result in unpleasant odors
Indulging in the care of your beard is similar to caring for the hair on your head. You need to be attentive to its needs and your own personal comfort as well. In my opinion, I think it is important for all men who wear beards as well as those who don't, to ensure that the skin on their face where facial hair can grow, should be cared for and maintained to reduce itching, redness, and the chance of acne.
How Do You Use It?
Once you have found the beard oil or balm that you like, the method of application is not difficult. The best time to apply the oil or balm is after a shower or a warm facial cleansing. The warmth tends to open the pores and makes it easier for the product to penetrate the skin and provide the nourishment or benefits of the product.
How To Care For Your Beard
Caring for your beard or any facial hair should be and can be an easy and simple process. What is important is the amount of time you choose to spend taking care of your face. Here is a simple routine that should help you to perfect one of your own:
wash your face – gently wash your face with warm water and then use an exfoliator sponge (if you have one) to remove the dead cells. You can choose any soap (organic is better) or just plain castile soap to gently cleanse your skin.
condition – yes, just like the hair on your head, using a conditioner will help to keep the beard hair moisturized and soft. You don't have to do this every day, but maybe once or twice a month should be a great start.
hydrate – using a moisturizer to lock-in the moisture is a great way to keep that soft, smooth feel to your beard. It helps to keep the skin supple and also helps to promote healthy hair growth. Doing a little massage also helps to distribute the body's natural oil or sebum as well.
style – yes, invest in a wooden (better for the hair) comb and a 100% boar's hair bristle brush to groom your beard. Once combed, you can add beard oils, balms, or wax to style and shape as you desire.
Having a 'beard care routine' will make a difference in how your facial hair looks and feels. And like every routine, being consistent will deliver the best results. I also found  two very interesting articles that are great reads about your beard-care:
Now, let's take a look at some beard oils and balms for men in 2020!
---
10 Best Beard Oils And Balms For Men 2020
Now, judging from the picture on the label, I am sure you are no stranger to the Amish people. This product is made from one of the many Amish communities in the region. And of course, beards are their thing! This product has more than 5,000 feedbacks, so that being said, it is something to talk and write about!
Honest Amish Beard Balm Leave-In Conditioner
is a balm or paste that is used to moisturize the skin as well as the beard hair. It is:
100% natural with no harsh chemicals
vegan
made from organic ingredients – oils and butters
not made with any synthetic colorants or fragrances
handmade
What the balm actually does for the beard is:
it softens the beard hair
reduces itching due to new growth and ingrown hair
get rids of beardruff
conditions the bearded area
reduces split ends
moisturizes the bearded area
With so many wonderful and powerful plant botanicals used in its formula, it is no small wonder about its effectiveness. It is infused with argan, avocado, grapeseed, pumpkin seed, and apricot kernel oils. Then further infused with fruit and nut butters like shea, aloe, cocoa, and kokum, to name a few, and then complimented with essential oils.
Here is a list of ingredients:
'Virgin Argan, Golden Jojoba, Virgin Avocado, Sweet Almond, Virgin Pumpkin Seed, and Apricot Oils(Infused with 15 botanicals additives) plus Shea, Aloe, Cocoa, and Kokum butters and then the Essential Oils of Cedarwood, Clove, Anise, Grapefruit, Cinnamon, Lavender, and Peppermint. Candelilla and carnauba waxes.'
---
Growth Strong Beard Oil
is made for the beard and the mustache. It is suggested as a growth oil for facial ha
ir. It:
is lightweight
softens the beard and conditions the skin underneath
helps to promote the growth of the facial hair
reduces itching and dryness
It is always helpful to massage the product into the skin so that the beard oil will be able to penetrate the skin. Remember, 'less is more', you only need a few drops of the oil to massage into the beard and maybe every other day should do the trick or until you find your 'happy medium'.
Here is a list of ingredients:
'Simmondsia Chinensis, Eucalyptus Globulus, Melaleuca Alternifolia, Cedrus Atlantica.'
---
Well, one thing I will say right off the bat is this – Awesome presentation!!
The gift box is beautiful. It comes with all the necessary tools that anyone would need to take care of their facial hair – beard, goatee, sideburns, you name it. I love the 100% boar's hair bristle hairbrush and the wooden comb – great tools that are natural-based made. And of course, the Rapid Beard's extra sharp cutting scissors. This should make trimming easy.
Now, let's talk about the beard oil and balm products. Both products are made with:
100% natural and organic ingredients like argan, jojoba, and Vitamin E oil which are the main ingredients. All these oils are well known for their moisturizing, emollient, and growth properties.
100% fragrance-free – no additives or scents.
The main features of the products are:
the ease of grooming that comes with a soft and well-moisturized beard hair.
superior hold, shaping power of the balm leave-in wax.
complete hydration of the skin under your facial hair.
helps to reduce itching and dandruff aka beardruff.
I must say that based on all the positive feedback I have reviewed, Rapid Beard's Grooming & Trimming Kit
is a wonderful investment for the man in your life as well as friends. Not only from the great kit appeal but more importantly from the natural-based products which should help make the facial hair and skin feel moisturized and groomed with consistent application.
Here is a list of ingredients:
'Beard oil: Argan oil, Jojoba oil, Vitamin E oil, Grapeseed oil, Ginger extract, Carbomer, Grape seed extract.
Beard Balm: Beeswax, Shea butter, Coconut oil, Tea tree oil, Macadamia oil, Almond oil.'
---
A very popular brand in the care and maintenance of facial hair, let's see what Honest Amish has to offer in this beard oil. As is known with this brand, it uses:
100% organic moisturizing oils
100% natural and organic ingredients
This composite blend of organic oils combines to provide a great mix for the skin (under the beard) and the beard itself. Here is a short overview of what each oil provides to the blend:
avocado oil – great moisturizing, vitamin-enriched oil which prevents dryness.
pumpkin seed oil – a wonderful oil packed with tryptophan, unsaturated fatty acids, anti-inflammatory properties, and anti-oxidants helps to soften the skin. It also contains zinc which helps promote hair growth.
moringa oil – bursting with anti-oxidants, anti-inflammatory properties, and anti-aging compounds, this oil helps to keep the skin young, soft, and supple.
sweet almond oil – packed with vitamin E and A, and its anti-inflammatory and anti-oxidant properties, this oil is great for sensitive skin.
apricot kernel oil – contains the plant compound amygdalin or so-called "vitamin B17" which helps nourish the skin.
jojoba oil – well-known moisturizing oil for skin and hair.
argan oil – provides healing properties for cuts, anti-bacterial, and moisturizing properties.
kukui oil – because of its fatty acids content, the kukui oil is a popular Hawaiian nut oil used to treat minor skin irritations, burns and is a great moisturizer.
The main features of the beard oil:
easily absorbed
a little goes a long way
moisturizing properties
promotes growth
Any oil with an oil blend with these organic ingredients will inevitably ensure smooth, healthy facial skin and a soft beard. If I were a man, I would definitely choose this 100% natural formula for my facial care.
Here is a list of ingredients:
'Organic Oils Include AVOCADO OIL, VIRGIN PUMPKIN SEED OIL, MORINGA OIL, SWEET ALMOND OIL, APRICOT KERNEL OIL, GOLDEN JOJOBA OIL, VIRGIN ARGAN OIL, KUKUI OIL.'
---
Leven Rose is a well-known brand and is reputed for their beard oil. They have a 100% money-back guarantee with 'no questions asked' because they are that confident in the effectiveness of their products.
The formula is quite simple:
it only has two ingredients – jojoba and argan oil
no fillers
no fragrances
no parabens or GMOs
no additives
cruelty-free
vegan-friendly
The main features of Leven Rose Beard Oil
are:
it moisturizes your beard and the skin
eliminates itching
reduces dandruff (beardruff)
it absorbs easily
soothes and reduces dark spots
encourages hair growth
It is amazing what these two organic oils can do for your skin and hair. Jojoba oil is already known to mimic the body's natural sebum and already this is a 'big plus' for this oil in terms of keeping things natural. And argan oil is a great moisturizer that helps to keep the skin supple. So, combined, it is a simple formula but it will get the job done – and naturally!
Here is a list of ingredients:
'A perfect, fragrance-free blend of 100% pure, organic cold-pressed, unrefined Golden Jojoba Oil, 100% Pure, organic cold-pressed, unrefined Moroccan Argan Oil.'
---
Features of The Gentlemen's Beard Oil And Leave-In Conditioner
:
it is 100% fragrance-free
it is100% natural and organic
it has no fillers, additives, parabens or GMOs
cruelty-free
Benefits that you will gain from using this beard oil:
more manageable facial hair
softer beard hair
smoothes beard hair and keeps them in check
no itching or beardruff
reduces irritation and flakes
easily absorbed into the skin and leaves no residue
conditions the hair and skin (Vitamin E and primrose oil are great emollients)
Looking at the list of ingredients, it is no wonder that this beard oil is so popular based on positive feedback. As someone who is a great advocate of natural products and their benefits for your hair and skin, I like the blend of ingredients and I know that together, these organic botanical extracts will deliver.
Here is a list of ingredients:
'Organic Helianthus anuus (Sunflower) seed oil, Organic Argania spinosa (Argan) seed oil, Organic Oenothera biennia (Evening Primose) seed oil, Organic Simmondsia chinensis (JoJoba) seed oil, Tocopherols (Vitamin E).'
---
7/Smooth Viking Beard Balm With Shea Butter & Argan Oil – Leave-In
I love the name of this brand. The manufacturer had a great vision when he came up with the name of this product -Viking! It connotes strength and stamina as I am sure this is the intention of his brand of beard balm.
The main features of this balm are:
it tames any beard with the strength of its hold
it softens
it shapes
it helps reduce itching
it conditions
it promotes hair growth and moisture with the formulated blend of botanical oils like avocado, safflower, sweet almond, jojoba, pumpkin seed, and argan oils along with shea butter.
100% all-natural and organic ingredients
it is lightweight and easy to apply
I like this conditioning balm mainly because of its ingredients. I know that using natural organic ingredients will only benefit your hair and skin in a very positive way. I also noticed that the feedback was overwhelmingly positive and great!
Here is a list of ingredients:
'Caprylic Capric Triglycerides, Olea Europaea (Olive) Oil, Cera Alba, Carthamus Tinctorius (Safflower) Seed Oil, Carnauba Wax, Persea Gratissima (Avocado) Oil, Prunus Amygdalus Dulcis (Sweet Almond) Oil, Argania Spinosa Kernel Oil, Cucurbita Pepo (Pumpkin) Seed Oil, Simmondsia Chinensis (Jojoba) Seed Oil, Butyrospermum Parkii (Shea) Butter, Candelilla Wax, Fragrance.'
---
The Badass Beard Oils Trial Kit
includes 8 trial sizes of its balms and beard oils. I like the idea of being able to sample the different oils and balms combinations before making an outright purchase. A fairly new company, so research was bare and sparse for me to decide how this product stands out. However, I included it on this list because:
its ingredients are all 100% natural oils and extracts
it gives the customer a small sample to find their preferences without making a big investment (and only to find that it is not quite the right products for them).
it has a wide variety of botanical extract options
Here is the list of the oils and balms in this set:
The Original – Sandalwood and Vanilla
The Ladies Man- Sweet citrus
The Biker- Earthy (patchouli) with sandalwood and a kick of peppermint
The Mountain Man- Pine and cedar
The Viking- White fir (citrusy pine) and orange with a hint of clove
The Patriot- Texas cedarwood, tea tree, rosemary, and patchouli
The Pirate- Bay leaf and lime
The Outlaw- Tobacco, black pepper, and vanilla
As you can see, each oil has its own essential oil mix and I am sure it will impart a different natural scent. I researched the main ingredients for each product further and came up with the information below from their website:
'Beard Balms: Shea butter, cocoa butter, beeswax, coconut oil and every oil that is in our beard oil.
Beard Waxes: Same ingredients as the balm, but with lanolin and a higher concentration of wax.
Beard Oils (except Secret Agent): Apricot oil, argan oil, jojoba oil, pure vitamin E oil, rosemary oil, eucalyptus oil, and tea tree oil.
Scents: We use all-natural essential oils and absolutes that are both functional and smell great. Our beard balms and oils may also contain cedarwood oil, sandalwood oil, vanilla absolute, lemon oil, ylang-ylang oil, pine oil, patchouli oil, cinnamon leaf oil, sweet orange oil, peppermint oil, bay leaf oil, lime oil, clove oil, white fir oil, earl grey tea extract, lavender oil, tobacco absolute, black pepper oil, coffee oil, lemongrass oil, grapefruit oil, and citronella oil.
Our Secret Agent formula is void of any scented oils, including the rosemary, eucalyptus, and tea tree oil found in all of our other oils and balms.
Mustache Wax: Shea butter, coconut oil, cocoa butter, yellow beeswax, lanolin, and every oil that is in our beard oil.'
---
St.Pierre's Beard Oil
is a lightweight beard oil made up with a few natural botanical oils. It is:
100% natural and organic
vegan-friendly
kosher certified
is easily absorbed into the skin
moisturizes the beard and skin while conditioning
The main ingredients:
apricot kernel oil – rich in Vitamin A and very nourishing for the skin and compatible with all skin types.
jojoba oil – their oil is GMO-free and is labeled as a liquid wax. As everyone knows, jojoba oil mimics the body's natural sebum and is rich in Vitamin E which helps to improve the skin's smoothness.
sandalwood oil – it has a woody smell that is used a lot in Ayurvedic health practices and is known for its anti-inflammatory properties and its ability to hydrate the skin.
There are other botanical extracts used in some of their other products which are just as good see image below. This brand is worth checking out.
Here is a list of ingredients:
'Apricot Kernel Oil, Jojoba Oil, & Oakmoss Sandalwood Oil.'
---
The Prophet And Tools Beard Balm
is similar to the beard oil, the difference being in the consistency. The main features of this beard balm:
it has a clean and not very overpowering smell
it holds and shapes the beard
it conditions and moisturizes
reduces skin irritations
eliminates beardruff
compatible with all skin and hair types
promises to thicken your beard
delivers coverage for up to 12 hours
even though it is a balm, it dissolves quickly and is lightweight
100% organic and 0% alcohol
cruelty-free
has a 2yr expiration date
As a person who prefers to use natural products in as many ways as I can, when a product has this as their basis, it undecidedly gets my seal of approval.
Here is a list of ingredients:
'Shea Butter, Beeswax, Oils: Jojoba Golden, Argan, Sweet Almond, Apricot, Castor, Vitamin E, Emu, Tamanu oils.'
---
My Final Thoughts On 10 Best Beard Oils And Balms For Men 2020
Doing research on this article as a woman was very interesting and enlightening. I honestly did not realize the importance of taking care of your beard and facial hair as a man. It is certainly a necessary routine.
As a matter of fact, while I did my research, it reminded me of one of my past boyfriends who always had a 'funny' smell to his beard and mustache most of the time – now I know why – he did not take care of it using the best products.
SO, for all you men out there, remember the ones you get close to, make it a positively memorable experience for them – they will hold the memory dear! I hope you enjoyed this article on best beard oils and balms and that you ill share it with any or many of your 'hairy' friends!
I welcome your feedback and suggestions.
---
Updated June 2020
REFERENCE:
[1] Wikipedia
---
Images courtesy of Pixabay, UnSplash, and Pexels.
Do you know that the more you use your brain, the better it is for you? AND, the more difficult it becomes to get 'old'? Yup, the brain is really a 'muscle', and the more you 'exercise' it, the better and stronger it becomes. With that said, let's see how we can make the brain better.
How about that second career? Ever thought about writing? Or even have someone write for you if you think this would be a better alternative? Well, how about creating your own website? Letting your voice be heard…without actually talking…but using words online. We all have a story within us…what's yours?
The time is NOW, step out into the world of possibilities…do something different and discover new horizons. It is not difficult and certainly easy when you know the way to do it.
Let me introduce you to Wealthy Affiliate, the place where I learned how to create a website and 'let my voice be known'. This is where I learned how to create my own blog and connect with people who helped me along the way.
Get your free hobby makeover guide I created to help you get started.
In it, I will tell you:
When you learn how to create your own blog, you get to choose the things that you write about. You can also use the blog to make extra income.
Make Another Dream A Reality – Get Your FREE Hobby Makeover Guide TODAY – It is your motivation to make a new start in your life…no matter where you are – geographic location is NEVER a problem either, especially when you live the laptop lifestyle.
Photo by ThisIsEngineering from Pexels