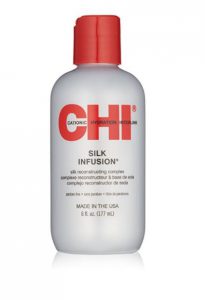 Introduction
Chi Silk Infusion
has been around for quite some time. I first started using it around the late 90s while I was a relaxed girl. I always had it on hand. Now that I am a natural girl, my hair care choices are different, however, I still use Chi.
In this article, I am going to look closely at Chi Silk Infusion and my personal experience with it. I will highlight the benefits, usage, description, and my likes and dislikes about the product.
Without a doubt, we all hunger for a great head of hair – the volume, the texture, the color, you name it. We are sometimes 'suckered' into buying products because of what they 'sell' to our emotions – beauty in a bottle – and oh too often, we are faced with the harsh reality that it was not what we had expected or hoped for. Let's see how Chi Silk Infusion worked for me
Let's begin.
Benefits
As with most things, there are benefits to be gained from doing or using any product. We all make purchases with a goal in mind:
how will this product work for me?
will it be as it says on the label or
will I have just spent money and gained nothing 'to write home about'?
For me, the benefits of using Chi Silk Infusion
are as follows:
Chi Silk Infusion makes your hair feel like silk – no pun intended. One of the main ingredients is the inclusion of silk proteins
the wheat and soy proteins help to add softness to your strands – these two ingredients are known to deliver nourishment and strength to your hair
there is no alcohol in the list of ingredients which means that there will be no harsh component to stress your hair
it leaves your hair feeling soft and hydrated and does a great job as a leave-in
it is light enough to use and it won't make your hair feel weighed down
suitable for all hair types
it has Ionic and cationic hydration interlink technology
you don't have to use a lot – a little goes a long way – one of my favorite things, especially when I think about the cost
How To Use
Chi Silk Infusion is a leave-in product for your hair.  You can apply it on freshly cleansed hair or on dry hair before styling. It has a sort of 'built-in' heat protector so if you choose to blow-dry or heat style your hair, it is better to apply Chi before so that it protects your hair as well. You only need a small amount which you put in your palms and then distribute it evenly throughout your hair from root to ends. It also protects your hair from the environmental elements as well – wind, dust, the sun.
Description
Chi Silk Infusion is a silver-greyish liquid that looks like liquid soap. It has a silky feeling to it once applied to your hands. A great indicator as to how it will make your hair feel as well. The ingredients listed are:
Cyclopentasiloxane, Cyclotetrasiloxane, Dimethiconol, C12-15 Alkyl Benzoate, Phenoxyethanol, Hydrolyzed Silk, Hydrolyzed Corn Protein, Hydrolyzed Wheat Protein, Hydrolyzed Soy Protein, Fragrance (Parfum), Benzyl Benzoate, Butylphenyl Methylpropional, Hydroxyisohexyl 3-Cyclohexene Carboxaldehyde, Hexyl Cinnamal, Citronellol, Coumarin, Linalool, Geraniol.
Who Is It For
This product is for any type of hair. I have used it when I was chemically relaxed and I use it on my natural hair as well. It works well with any hair type and texture.
What I Like
What I love about this product, hands down, is:
the silk, wheat, and soy proteins in the ingredients which seem to work synergistically. These hydrolyzed proteins help to smooth your cuticles and make them better able to reflect the light, hence making your hair shinier. And once your hair cuticles are closed, it will result in more soft, shiny, and better-hydrated hair.
It is a great light leave-in which does not weigh your hair down and give it that heavy, clammy feeling
It is alcohol-free
there is minimal to no product buildup
It doubles as a heat protectant from heat styling appliances and also environmental elements
It helps to reduce frizz
What I Don't Like
I did not find too many cons for this product and I realize that my opinion will be subjective. Therefore, in my opinion, I think Chi Silk Infusion is:
a bit pricey, even though I know the product delivers – thankfully, so I am willing to pay the price
there are counterfeit or product knock-offs so be aware and purchase from a reputable company – you can purchase from Amazon – I do.
As a user of this product, it gets my 'stamp of approval' – when I was a relaxed girl and even now as a natural girl. Chi is great as a leave-in conditioner which helps to close your hair cuticle resulting in more shine for your tresses, strengthens your hair, making it feel silky and soft at the same time while protecting it as well from any heat damage from heat appliances and the environment. It is like an all in one beauty treatment for your hair.
If you have tried Chi Silk Infusion, I would love to hear your feedback. If you have not tried it as yet, I hope this article will encourage you to do so and please leave me a comment when you do.
Thanks for reading.