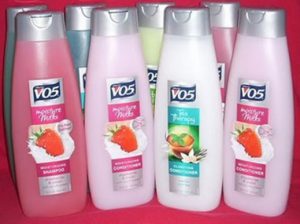 Alberto VO5 moisturizing conditioners have been around for a long, long time. I am a mature woman and when I was under 21yrs, my mother would ALWAYS buy VO5 products to use in her hair care regimen. Of course, there was everything associated with hair that was offered in the Alberto VO5 line:
Now that I am a natural girl, free of chemical processes and products used in my hair care regimen, this is one item that I ALWAYS have in my arsenal of pre-made hair products. Let's take a closer look.
Benefits Of VO5 Moisture Milks Conditioner
In compiling this review, it made me buckle down and think of the reasons why I use VO5 moisture milks conditioner and here is what I came up with:
it smells good
it is tried and tested as a reliable brand
it does not have silicones in its ingredients
it is inexpensive
it does as its label says – it moisturizes and conditions your hair
it comes in a variety of fragrances – strawberry, kiwi, tea therapy, to name a few
it is a very effective co-wash conditioner as well as a conditioner
it is reasonably priced
How To Use The Product
Well, this is what the label says:
'After shampooing, apply to wet hair. Leave on as desired. Rinse thoroughly. Avoid contact with eyes. In case of contact with eyes flush thoroughly with water'.
However, this is how I use it. I use it as a co-wash product for my hair. I wet my hair thoroughly, then I use it as a cleanser 2-3 times, massaging my scalp while I ensure that the whole head is saturated with the product. I use it in very generous amounts – thank God that it is reasonably priced!
There are times when I am running low on my supply, and in those times, I will add some water to the half-full bottle and fill to about ¾ of the bottle, shake vigorously and use as usual. It still works wonderfully as a hair cleanser. There are times also, that I add it to my homemade recipe for a leave-in conditioner along with water and essential oils and a base oil of my choice.
As a regular VO5 moisture milks conditioner user, it is easy for me to describe the product. The smell is very appealing. The consistency is perfect – a balance – not too runny and not too thick. The ingredients listed are:
Ingredients
Water, Cetyl Alcohol, Cetrimonium Chloride, Stearalkonium Chloride, Fragrance, Glyceryl Stearate, Methylchloroisothiazolinone, Methylisothiazolinone, Disodium EDTA, Propylene Glycol, Soy Milk Protein, Fragaria Vesca (Strawberry) Leaf Extract, Polysorbate-20, Panthenol (Vitamin B5), Tocopheryl Acetate (Vitamin E), Ascorbic Acid (Vitamin C), Niacinamide (Vitamin B3), Biotin (Vitamin H), Red 33 (CI 17200).
Who Is VO5 Moisture Milks Conditioner For
This moisturizing conditioner is for anyone who needs a product that will be gentle on their hair. It does not strip your hair of its natural oils. It works its magic gently, especially with the Soy Milk Protein that is a part of the ingredients. It is gentle enough for babies, children, and adults.
What I Like About The Product
This is a winner in my books. As someone who does not use shampoo anymore, and if I do, it has to be sulfate-free, VO5 moisture milks conditioner packs the punch for me on various levels. It:
is fragrant
conditions the hair
makes the hair feel soft
is inexpensive
is a well-known brand in the hair industry
What I Don't Like About The Product 
I can't think of anything that I don't like about VO5 moisture milks hair conditioner
, strange as it may seem. It gives value for my dollar and I am happy with it.
My Final Thoughts
I love the VO5 Moisture Milks Hair Conditioner
because of its versatility in my hair care regimen. I can use it as a cleanser, a conditioner, and even as a moisturizing leave-in. Have you ever tried it? How do you use it?
I would love to hear your thoughts. Looking forward to your feedback in the comments section.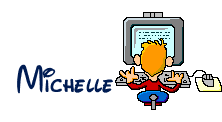 Images courtesy of Pixabay.com