Introduction
Taking care of your hair can sometimes be a full-time job until you get it automated – meaning, by setting up a routine that works for you and your hair. Beautiful hair does not happen 'overnight' unless you do a deep conditioning treatment. But all humor aside, if you want to constantly look in the mirror and see a luxurious frame to your face, then you will have to take the time to care for your hair.
One very important concern for hair is the moisture and protein balance. In this article, I will be looking at one package of three products – Aphogee Trio Two-Step Protein Treatment
 which does a great job in taking care of that issue.
The trio consists of:
the two-step protein treatment -16oz
the balancing moisturizer – 8oz
and the shampoo -16oz
All three products work synergistically. That means they give the best results when they 'work together as a team' – they compliment each other. It is a 'salon service product' that you can use in the comfort of your home.
The shampoo is rich and a gentle cleanser for your hair. It can be used on color-treated, permed or chemically relaxed hair. Even hair extensions and weaves can enjoy the gentleness.
The two-step protein treatment is just like stepping into a salon and getting a protein treatment. It contains proteins, emollients, and vitamins which all together help to restore sheen and pliability to hair damaged by chemicals and heat.
The balancing moisturizer helps to provide and seal in moisture, which is a much-needed factor in hair growth, strength, and elasticity. It contains  Aphogee's exclusive Pro-Phytamine complex, a blend of collagen amino acids, emollients, vitamin derivatives and herbal extracts. It helps protect styles in humidity and is recommended as a regimen for processed hair, dryness and the ends of long hair.
---
Benefits Of The Product
I have used Aphogee Trio Two-Step Protein Treatment
for many years and I love this product. The main benefits I find are:
it does as it says
helps balance the protein in your hair
strengthens your hair
reduces breakage
the shampoo is gentle on your hair
the moisturizer helps to provide moisture and sheen
---
How To Use The Products
Each product has to be used in a certain way, especially the protein treatment. I will address each product individually.
Completely wet your hair first before applying a small amount of the Aphogee shampoo to your hair. Massage into the hair. You only need to apply once because it is a rich product.
To start, you need to cleanse your hair with the Aphogee shampoo. Rinse and towel blot hair. Shake the two-step treatment bottle well before using. Apply to damp hair ensuring that it thoroughly distributed throughout the hair. Do not cover hair in any way. Sit under a hooded dryer
with medium heat. This is better than using a hand-held dryer. The key here is not to agitate the hair during this process.
Once the treatment has dried in the hair, your hair will feel hard. DO NOT try to comb, brush or agitate the hair. Simply re-wet the hair and rinse the treatment out of your hair.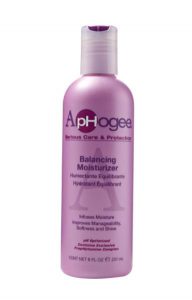 Once you have cleansed, added the protein, now it is time to moisturize the hair. Apply the Aphogee moisturizer completely to your hair. Leave in your hair for at least 2 mins ( I usually leave it for about 5 minutes) and then rinse. 

---
Product Description And Features
I will outline each product separately.
The Shampoo
This shampoo has a very rich and silky feel to it. It lathers easily and a little goes a long way. You really only need to lather once.
Here is a list of ingredients:
Water (Aqua, Eau), Sodium Laureth Sulfate, Cocamidopropyl Betaine, Sodium Lauroyl Sarcosinate, Cocoamidopropyl PG-Dimonium Chloride, Glycol Distearate, Hydrolyzed Vegetable Protein PG-Propyl Silanetriol, Panthenol, Phytantriol, Hydrolyzed Wheat Protein, Hydrolyzed Soy Protein, Tocopheryl Acetate, Trimethylsiloxyamodimethicone, Mauritia Flexuosa Fruit Oil, Sesamum Indicum (Sesame) Seed Oil, Oleoyl Sarcosine, Lecithin, Lanolin Alcohol, Cocoyl Hydrolyzed Collagen, Polyquaternium-10, Glycerin, Citric Acid, Butyl Stearate, Trideceth-12, C11-15 Pareth-7, C12-16 Pareth-9, Sodium Chloride, Tetrasodium EDTA, Fragrance (Parfum), DMDM Hydantoin, Limonene, Red 40 (CI 16035
The two-step protein treatment
This treatment, I must warn you up front, does not have a nice smell. It really smells horrible, but once you can get past that, then you will appreciate the benefits of the product. It is made with magnesium and modified proteins which bond with the hair once you apply heat. This is what helps to reduce hair breakage.
Here is a list of ingredients:
Water, hydrolyzed collagen, citric acid, magnesium sulfate, imidazolidinone, panthenol, tocopheryl acetate, mauritia flexuosa (fruit oil), hydrolyzed vegetable protein, pg-propyl, silanetriol phytantriol, magnesium carbonate, cocamidopropyl, betaine dimethylol, urea trimethysiloxyamodimethicone C11-15, pareth-7 C12-16, pareth-9, glycerin trideceth-12, dmdm hydantoin, fragrance (parfum), linalool.
The balancing moisturizer
I like the smell and consistency of this moisturizer. Once I add it to my hair, I gently detangle my hair. I use it every time I use the shampoo and definitely after the protein treatment. It helps to make my hair soft and manageable.
Here is a list of ingredients:
Water, Glyceryl Stearate, Cetyl Alcohol, PEG-100 Stearate, Glycerine, Stearalkonium Chloride, Petrolatum, Cetearyl Alcohol, Mineral Oil, Oleyl Alcohol, Squalane, Acetamide MEA, Panthenol, Silk Amino Acids, Allantoin, Collagen Amino Acids, Hydrolyzed Elastin, Cylclomethicone, PEG-150 Stearate, Polysorbate-60, Steareth-20, Proline, Alanine, Tryptophan, Sage Extract, Chamomile Extract, Rosemary Extract, Citric Acid, Methylparaben, Propylparaben, Fragrance.
---
The three products are for anyone who needs protein management for their hair. If you find that your hair is severely damaged, dry, and breaking, this is a good sign that your hair needs some help.
---
What I like About The Product
As a trio, I think:
it is great value for money
I love the moisturizer because it really softens my hair after the intense protein treatment
I am not a big of shampoos, however, this one is really gentle on my hair.
---
What I Don't Like About The Product
There are only two things that I don't like:
the smell of the protein treatment
the size of the moisturizer
---
It is important to ensure that the protein and moisture balance for your hair is in check at all times. Too much protein will result in hard, stiff, and brittle hair; while too much moisture will also result in overly soft and over-elastic hair.
There has to be a happy ending. I find that Aphogee has created a great set of products which address every hairs' need. I would suggest this product without hesitation because I continue to use it. If you choose to try it out, I would love to hear your feedback.
Thanks for reading.