WHAT ARE WEAVES?
Hair weaves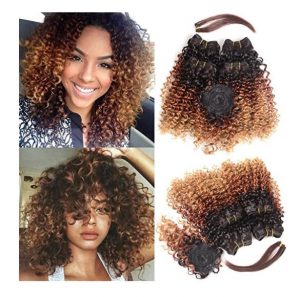 are simply extra hair that is secured by threaded rows or weft weaving. These rows can be further grouped together to be used:
separately
made into a full head wig
a half wig
secured with clips
or simply gathered together
TYPES OF WEAVES
There are two types of hair used to make weaves:
Synthetic hair is not real and is made to look like it is real human hair. It is made up of fine synthetic fibers. Manufacturers may use a single type – monofilament fibers – or a combination of two or three, polyfilament fibers, made of acrylic or polyester to make the hair fibers. Usually, hair made in this way is less expensive than human hair wigs and hair extensions.
Human hair is just that – hair from a human. The hair from humans is used as a source to make hair wigs and extensions. Because it is 'real', it will be a little more expensive than the synthetic hair.
A great organization I like and support in what it does is Locks of Love. 'Locks of Love is a public non-profit organization that provides hairpieces to financially disadvantaged children under age 21 suffering from long-term medical hair loss from any diagnosis'.
Here is a video giving you an idea how Indian hair extensions and wigs are made and exported.
Countries That Export Hair Extensions
The top countries which export human hair are:
India
Tunisia
China
USA
Burma
Brazil
Peru
Pakistan
Singapore
---
HOW ARE WEAVES MADE?
Hair weaves are made in various ways:
bulk – as single pieces
track – sewn together in various lengths
lace front – attached to lace for 'invisible' hair placement
The way that they are applied or installed are also different:
with hair clips
with hair glue
as sew-ins on braided hair
The woman usually chooses the best way for her to 'install' the hair extension. The best way is usually the method that does not damage or cause discomfort to the wearer. Wearing the extension is great, but one has to remember that it is temporary and taking the extension off/out of one's own hair should not result in hair damage such as balding, thinning hair, or even hair loss. I would not encourage installing hair extensions with heat and the hair glue as this will cause long-term damage to the scalp and the actual hair follicle – which I believe would be the reverse intention of wearing it in the first place!
---
BENEFITS OF HAIR WEAVES
As we everything in life, in order to make an informed decision, we need information. I will present the Pros and the Cons, that I have found to be results of wearing hair weaves. I try to be objective and not subjective. I will save my opinion for the end of the article.
Pros
Helps as a hair protective hairstyle
Helps to give flexible styling options
Disposable
Versatility in colors -gives you a chance to live out your wildest dreams or anticipate a color change
Covers a bad hair day
Can be used as a resting period for your hair growth
Covers a bad haircut
Allows you to have long hair when it seems like yours isn't growing as fast as you would like it to
can be used to cover up hair issues (hair loss, balding, thinning hair)
helps to add volume to your hair
to accessorize
easy to use
Cons
Not always reusable – depends on the quality and the care of the user while they were installed
Can be expensive especially when using human hair
If not properly cared or installed can result in hair loss, breakage, bald spots
it might be difficult to find a hairstylist that does a great job
---
WHO ARE WEAVES FOR?
It has been commonly thought that most black women are the wearers of hair weaves, it couldn't be further from the truth. There is a large percentage of Caucasian, Oriental, women of all walks of life who need to improve on their crowning glory and will do what it takes to make it better.
After all, there is nothing 'wrong' with wearing a weave or extra hair enhancement to what you already have naturally. Here is a collection of reasons why women (and sometimes men) will wear hair weaves or extension:
anyone who wants and is willing to pay the price of buying the hair and its installation
people with health issues – balding, chemotherapy, thinning hair, to name a few
people wanting to make a change before cutting their own natural hair so they do a test run
people who just want a change
people who are not so great in their own hair care or lazy, and just want an easy way out – looking good or having great hair days without having to spend the time to achieve it.
So, as you can see, this can be just about anybody with a desire to make things happen differently when it comes to their hair.
---
WHERE CAN YOU PURCHASE HAIR WEAVES
In our world today of 'instant gratification', there are many things, of which hair extensions are also a part, you can make your purchases:
online- wholesale and retail
offline  in physical beauty stores and hair salons
All you need to do is go to a search engine, Google for example and search for 'hair extensions' and the world is your oyster with many choices – for the online experience. For the offline experience, you simply go to a beauty shop or a general shopping mall or even some hair salons, and I am sure you will be able to find something.
---
MY FINAL THOUGHTS ABOUT HAIR WEAVES FOR BLACK WOMEN
The closest I have come to wearing anything close to a weave is braided hair using hair extensions. I was curious enough to wear the braids for about a week – this was as long as I could keep it in.
The most important thing to consider when choosing hair for a weave is the reason for your choice. Here are a few questions that you should mull over:
Is it going to be long-term or short-term – how long will you keep the installation in?
Are you familiar with the care that should be done while your own hair is being protected by a weave?
What are the costs associated with the installation and subsequent removal?
What type of hair will you purchase – synthetic or human?
What type of hairstyle texture – straight, curly, textured?
What is more frequent styling option that it offers – especially if you are in a professional work environment and need to be conservative in your dress code?
I hope this was a useful and informative article to help you make an informed decision. I would love to hear your feedback.
Much success on your hair journey.