Let's Talk Hair Extensions & How To Wear Them!
When it comes to hairstyles, hair extensions, and everything hair, there's no rule. Literally. That is why trends keep changing while we struggle to perfect the one in vogue. It is no news that these trends are geared into motion by celebrities, whether international or local so even if a style has been worn by the generations before us but never by a celebrity, it may never be on the charts.
We can't talk about trends without paying respect to the ponytail lovers (which you probably are so we can start this conversation already without waiting for the rest.)
The ponytail is one hairstyle that has not gone out of fashion since the day it stepped foot on Earth. We've seen countless celebrities like Kim K (the Hair Bender), Hailey Bieber, and Katy Perry rock the ponytail but even if they cease to do so from today, the ponytail won't go into extinction.
It's one of the most stylish, yet easiest hairstyles to flaunt anytime and what we love most about it is the fact that it leaves no "leftovers" hanging around your face. Everything goes up and stays right there all through the day.
What more could we ask for?
However, not every one's hair is generous enough to allow them the luxury of flaunting a ponytail with it. If your hair is in this category, we don't feel bad for you. Not at all. That's why we took so much time in curating this piece on how to make a ponytail even with your not-so-long hair.
Before you get excited, it's important you know that we're talking about hair extensions and not some new hack to make your hair longer overnight. Besides, your hair length doesn't matter so much. Even with a Vanessa Hudgens kind of hair, you could still make use of extensions. So, without further ado, let's get round to some ponytail business.
What Is A Weave Ponytail Hair Extension?
With all that we've said in the first part, you already know what a ponytail is and what it looks like. But a weave ponytail hair extension?
Well, a weave ponytail is a kind of ponytail that is made by attaching extensions to the natural hair. These extensions could be straight, short, curly, wavy, or long. All that matters is their ability to fall like a ponytail.
Also, some of these extensions are specifically made for ponytails so there isn't much you can do with them if you decide not to wear a ponytail anymore. Some others are just plain extensions. You could wear them in different styles and still turn them into ponytails at any time.
Without a recommendation, you'd definitely opt for the latter type of extensions just to get more flexibility but don't get mad if, after the first style, it refuses to fall like a ponytail.
If you're a hair enthusiast, then you'd know that not all hair weaves are high-quality and maintenance plays a vital role in these things.
If you are keen on getting the ponytail done, then you could use the extension for the pony first before re-using it for other styles. We recommend doing this because the ponytail is a very conservative style. It doesn't require so much combing or stretching that could distort the nature of the hair.
For the sake of this article, we would be using one of the most versatile hair extensions the Peruvian hair curly weave to make our ponytail. We could jump right into how to make the ponytail but because we don't want to leave anything to assumption, let's look at what influenced our choice of the Peruvian weave.
Why The Peruvian Curly Weave?
In case you didn't know, Peruvian hairs are not particularly gotten from Peruvian women. You heard that right. Peruvian hair is basically any hair with a texture so fine and dense that it resembles human hair.
For clarity, we'd like to state categorically that some of the weaves are actually gotten from Peruvian donors but the reason the name has become virtually generic is the nature of hair that Peruvians possess. Any extension that possesses such features, whether from Brazil or not, is also referred to as Peruvian hair.
The Peruvian curly weave is more typical of the Peruvians from African descent. The spirals are thick and bouncy so you could comb them over and over but like elastic, they return to shape. As a result of this, they sit high on the human hair charts (which in our opinion, is very much deserved).
You may want to change your weave to a Peruvian curly weave straight away but before you rush off, grab some latte and read on.
Ponytail Hairstyles
You may be wondering, "is the ponytail not a style already? How are there styles for a style?" You're not wrong to say that the ponytail is a type of hairstyle but like we mentioned earlier, there are no rules to these things. That said, let's roll out some of the coolest ponytail styles we've seen on the gram.
High ponytail: As the name already suggests, the ponytail is made to fall from a pretty high level. The point where the hair is packed is somewhere around the middle of the skull.
Low ponytail: This one is tied at a lower point which is more common. If your hair extension is not so long, you could make the low pony so that it falls to a reasonable length.
Touchdown ponytail: This is pretty much like just packing your hair together and tying it down. The ponytail begins from the neck and extends to wherever its length takes it to.
Bubble ponytail: A bubble ponytail is simply a ponytail that is tied into loops as it falls. The hair is packed somewhere in the middle of the scalp so that it falls from a high point. The loops are like small buns that continue to the last tie.
Pony with a fringe: For people who don't mind having some hair in their faces, this is a good ponytail variation to try. After a portion of hair is cut out for the fringe, the rest is packed into the ponytail. But before you jump on the fringe, we believe it's important to state that it doesn't fit everyone. Round or rectangular faces shouldn't be rocking this because it'd add more volume to the face which is totally a bad idea.
The best part about these ponytail styles is that you can do them all by yourself and in such a short time. If you have a hairstylist on the ground, then, by all means, go ahead and lay down your hair before him/her; otherwise, get your tools out and pull that look off yourself.
Speaking Of Tools, What Do You Need To Style Your Ponytail?
In order to style your ponytail like a pro, here's what you need:
Rubber bands.
Hair products: this differs depending on your type of hair and what you can afford but the basic one you need is a gel.
A hairbrush.
A smaller brush for edges.
A tail comb
Some water (optional)
The Peruvian curly weave.
That's pretty much all that you need for your DIY ponytail. For the weave, you could use just one bundle of hair. The thickness of the Peruvian hair would make up for a couple of other bundles that should have been added if it were synthetic.
If after styling, you want to add more products, that's fine but a Peruvian hair doesn't need so much of that. It is sufficient in itself.
Per ponytail requirements, we suggest a 20-inch hair length but you could longer or a bit shorter. In order to help you decide on your own which length to use, here's a breakdown of what you'd get using different hair lengths.
Guidelines For Hair Extension Length
With a 16-inch hair extension, your ponytail would stop somewhere around the level of your bra hooks when tied high. If tied low, it would extend slightly below the bra hooks.
A 20-inch hair extension used for ponytail would go a few centimeters below your bra hooks when tied high and get midway between your neck and waistline when tied low.
With the 22-inch hair extension, a high ponytail would stop midway between your neck and your waist and a low ponytail would get to the waistline.
Using a really lengthy 26-inch hair extension, your ponytail would get to your waistline when tied high and could go as low as your hips if tied in a low pony style.
Before choosing, ensure that the length would not look "exorbitant" for any occasion you have to attend. Some jobs do not permit really long and dangling hair so check your conformity. Most importantly, the length should fit your style. In the end, what you want is a hair that looks like a pony's tail, not a rabbit's.
How To Style The Peruvian Curly Weave Into A Ponytail
Congratulations on reaching this far in our ponytail story. For coming this far, you are rewarded with free tips on how to actually style your ponytail. To claim your reward, simply keep reading.
Prepping The Hair
The first thing to do is to get your natural hair ready for the ride. The hair in question should be clean and well moisturized because it would remain that way for a couple of days.
Although the most common ponytail styles have to do with a perfectly straight hair, you could leave some waves in your natural hair or make it a bit natural.
However, if your hair is really coarse and kinky, try stretching it a bit so that it stays smooth. Again, there are no rules, so feel free to express your creativity with your hair.
Adding The Hair
The next step is to hold your hair in one place. Now, there are a number of factors that determine how you add your hair – the ponytail style you want to achieve, the length of your hair, and the length of the hair extension/weave.
From the styles, we listed earlier, you would observe that not all the ponytails start from the middle of the scalp, and achieving any of those styles would start with the way you pack your hair.
If you're doing it yourself, get a mirror big enough to view your portrait so that you don't make mistakes. In addition to the style you're trying to nail, you could part your hair from the middle or by the side before you hold it up.
If you have a pretty large forehead, then part your hair from the side (it could be left or right) but if your forehead is not as obvious as the color contrast between your hair and the weave, then you could part it from the middle or at any point.
Holding The Hair In Place
This follows the adding process. After deciding on what style and parting to do with your hair, add it in and hold it firmly using a rubber band. Before now, most people used Bobby pins instead. They hold almost every lump of hair with a bobby pin and after everything, their ponytail becomes a "danger zone".
Rubber bands are a lot easier and safer as they pose little to no issues when rocking your ponytail but they may not be as firm as the bobby pins. Knowing this and to prevent tragic stories when you step out in your ponytail, use more than one rubber band to hold the hair together.
Depending on the length of your hair, you should have a little pony sticking out after packing the hair. This could interfere with your weave so twist it or just pack it in a bun if it's not so long. Don't bother about making it compact; a good weave would cover all that up.
Defining The Pony Axis
Technically, this is the root of the ponytail. We deemed it fit to put some emphasis on this because it pretty much lays the secondary foundation for your ponytail. If you tie it anywhere from the middle up, you have to hold it firmly because it wouldn't be funny if it dropped on an occasion leaving you with no other option but keeping a hand on your head.
After holding the root of the ponytail with a rubber band, you could make it stand out a little bit more by wrapping some hair around it that is, tying the same point with strands of hair. By doing this, your ponytail would pop put instead of lying flat on your head but if you want a high ponytail that spreads out, you could ignore this step.
Wrapping
Now, this is where the weave comes in. Take the hair extension and from the roots, begin to wrap it around the root of your ponytail. We're not using a truckload of pins here so as much as possible, make the wrap firm. If you feel the weave slipping off, remove it and wrap it again.
Secure what you've got. Having wrapped the extension properly, go ahead and hold the weave in place with a few hairpins. Put the pins from within the hair so they don't stick out like flowers which they aren't.
Some Extra Hair
Your ponytail is most likely looking good already but how about some volume? If you don't mind having some of it, then take your hairbrush and brush out the curls gently. The Peruvian weave is bouncy and would still return to place but by brushing, you pull out a couple of strands so that they stand on their own. This would make your pony look full.
Make It Sleek
You could do this before you begin wrapping your ponytail or after to lay your hair and edges. If your hair is coarse, add some water to it and brush carefully so that it spreads evenly then pull out your gel.
Using your fingers, take some of it and rub generous amounts round your hair especially at the edges. Since most of your hair is packed, your edges would become the point of attraction so pay special attention to it.
Using the small hairbrush, snatch those edges into any pattern you want. If you need some help on this, just check out Instagram for some nice edge finishes.
Finishing Touches
When all is done, throw a satin cap on. This would make your hair get sleeker faster. You could leave it for 30 minutes and continue with your red carpet preparation before coming back to the mirror to pull it off.
Care For Ponytail Hair Extensions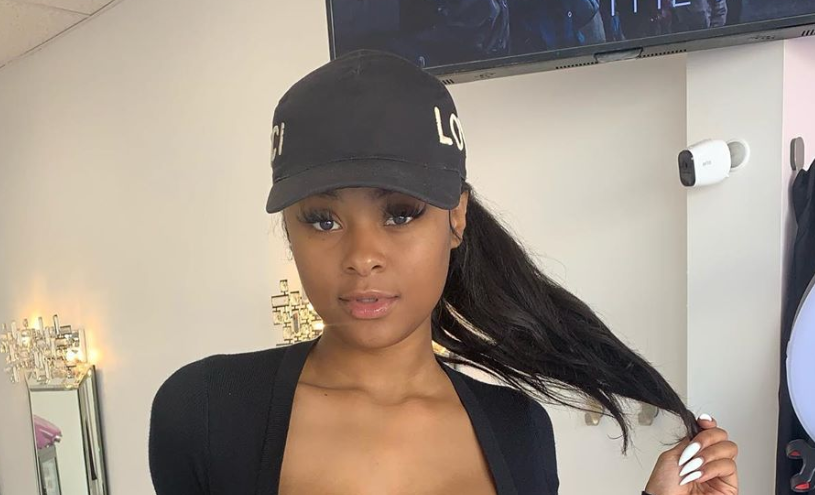 We thought It wouldn't be fair if we just got your excitement levels high and leave you without tips on how to keep it high. So, we went the extra mile to bring you tips on how to care for your ponytail extensions.
These hair extensions, just like any other hair–natural or synthetic–have to be looked after so that their days may live longer. If after three nights, your ponytail is already looking like a bathing sponge, then your care game is zero. Generally, ponytails could last as long as four weeks if taken good care of but with the reality of our "busy" lifestyles, let's leave it at three weeks.
So, within the three weeks of showing off that ponytail, here's what you can do to keep it looking lush everyday.
Before going to bed, put on a bonnet. This would help keep the hair and pony in place while you toss and turn.
Brush it gently every day so that it stays full and detangled.
Apply some oil on it daily to keep the glow intact. Don't go overboard with the products though, they could cause clogging if you do.
When you take off the ponytail, wash the weave properly, and condition it so that it stays ready for the next use. Do not wait till you have a need for it before washing it.
This didn't have to be so long but we didn't want to feed you with our choices and recommendations so we had to set the table before you to choose for yourself. Hopefully, you've made the best choices and are already on your way to nailing that pony.
We can't wrap up without mentioning the accessories that can be used with your Ponytail hair extensions. When your desired pony style is finished, don't hesitate to throw on some beads or scarf or ribbons on it. You could decide to go plain though but whatever you decide, your ponytail should make a statement when you step out. Have fun and step out with style!
---
Images courtesy of Pixabay, UnSplash and Pexels.
When you learn how to create your own blog you get to choose the things that you write about. You can also use the blog to make extra income.
Here is where I learned how to create my own blog and connect with people who helped me along the way.
Make Another Dream A Reality – Get Your FREE Hobby Makeover Guide TODAY – It is your motivation to make a new start in your life.