10 Best Hair Hot Rollers 2020 Guide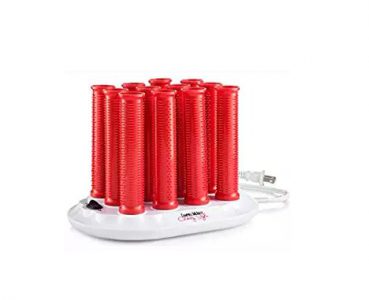 In this article, 10 Best Hair Hot Rollers 2020 guide, our focus will be on examining the many features that one can find in the various brands of hot rollers available on the market. In this guide, we will see what the brands have to offer, and the best use each set of rollers will have for your styling preference. Without further ado, let's get started.
What Are Hair Hot Rollers?
Hair hot rollers are the type of rollers that need some type of heat in order for them to work. There are many types of hot rollers on the market. Normally, they are mainly electrical and they need to be heated for a certain amount of time – sometimes the shortest 2 minutes or sometimes as long as five minutes
Heating time will all depend on the:
The brand
The weight
The flock density
Heating technology or heating element being used
Design and comfort
Personally, I have only used hot rollers in my earlier years. My hair is very curly and it takes a little more than just a small amount of heating time to see a difference in my curls. Like anything else, when it comes to heat and hair you have to be careful.
One thing I have noticed about some brands of hot rollers is that you're not able to control or monitor the heat output; in terms of a marker of low, medium, or high heat levels.
So, from that viewpoint, you still have to be careful that you're not putting too much heat on your tresses. It can be best to ensure that you use a hair primer before using the hot rollers for the best protection.
In order to get the best results, you need to be able to select:
The functions are also different, some rollers:
Are best for larger curls
Produce tighter, smaller curls
Are better at creating 'soft waves' or ringlets
It will ultimately depend on the brand and your styling options at any given time.
How Do They Work?
Hot rollers work by heating themselves.
They hold the heat which is distributed along the hair to curl once it has been wrapped around the roller or until the heat cools down. So, in essence, the roller is heated up depending on how the manufacturer has determined that it would do this and then you can use them to curl your hair with a couple minutes anywhere from 5 to 15 minutes in order for the heat to manipulate your natural curl.
The type of curl will be dictated by:
Your hair texture
Hair volume
Length of time that you keep the rollers in (during heated roller and after it cools down)
Hair length
Roller size
Flocking on roller
Benefits Of Using Hair Hot Rollers
As with most things in life, there are benefits and disadvantages for everything and this includes using hot hair rollers. It is easier on your hair when you really need to be quick you don't have the time to stand using a flat iron or blow-dryer or regular curlers to achieve a hairstyle.
Other benefits:
Portable – they're easy to carry the content from anywhere
They are lightweight
The cost in some instances inexpensive
They do the job in a pinch
Disadvantages:
They do not work for every hair that it's used on it seems to work best on thin hair vs. long thick hair.
May not last very long as the heating element may burn out
May not be cost effective for your budget
Types Of Hot Rollers
There are various types:
you have smooth ones
hot rollers which have slight protrusions
small, medium to large a good variety for many types of hair.
Let's take a look at the guide and see if there is something that could work with your hair to help make your beauty regimen seamless. Now, I must say that one thing I noticed during my research is that the Conair brand seemed to be the 'hot ticket' on the market when it comes to best hair hot rollers. SO, do not be surprised if there are more than one suggested hot rollers by Conair. There are some differences, no matter how slight.
---
10 Best Hair Hot Rollers 2020 Guide
Without a doubt and surely the positive feedback from the users, this Conair hot rollers is worth checking out.
The main features:
It prides itself on the Ceramic-infused technology – which gives quick heat transfer and curls that last
It comes with 12 rollers in the set – jumbo and super jumbo (1 ¾ inch and 1 ½ inch)
Comes with bonus super clips to better secure your hair
Has twice as much flocking than other competitive products and
Heats up in 85-seconds
Has a 'ready dot' and a power indicator light
On/off switch
5-ft long line cord
Helps to reduce frizz, static, and no damage to your hair
Lightweight and compact
Velvet covering helps to protect your hair from too much heat
For sure, with such features, it will be worth a trial if this is what you are looking for in the way of hair hot rollers. This hair hot roller set also comes with a handy-dandy instruction booklet.
---
The Caruso brand is also another well-known hair brand. I have used this brand in the past and was satisfied with their product. The Caruso Professional Molecular Hairsetter is based on the 'Caruso Molecular System is a revolutionary process; tiny molecules of steam penetrate the hair shaft reforming the chain bonds to create healthy, strong beautiful curls.'
The main features:
Can be used for all hair types
It used its trademark – 30-second curl™ by blow-drying hair first to evaporate moisture and each roller has to be individually heated
Comes in a set of 30 rollers – (6) Petite Rollers(6) Small Rollers(6) Medium Rollers(6) Large Rollers(6) Jumbo Rollers(1)
Touts long-lasting curls for days
The steam conditions the hair while curling it
Easy to use
Creates perfect spiral curls & waves and curls last for days
Does not damage your hair
The set comes in a nifty carry case which makes the portability easy as well as hair styling booklet.
---
The Remington brand is not an unfamiliar name in the hair industry, though I am sure, most people associate Remington with shaving tools more commonly.
The features of this hair hot roller:
Ionic Conditioning which is activated by the rollers
Reduces frizz and seals the hair cuticles, repelling static and humidity
10 rollers – 1inch medium and 1 ¼ inch large
Color-coded clips to help with styling
Custom J-Clip which is specifically designed to hold the rollers in place without causing any creases in your hair
Global coverage (in voltage use) – 120-240V and 50/60Hz
Made from a ceramic material to allow for consistent heat distribution
A great primer for a test run!
---
A well-known brand of hair products is Conair. This is one of many hair hot rollers that Conair makes and that is highly acknowledged.
The main features of this set of rollers:
A set of 20 multi-size, tangle-free rollers ( small ½ inch, medium ¾ inch, and large 1 inch)
Compact in size
Ready signal light (red)
Patented roller design in its grip – grips hair for a firm hold
Easy to use
Color-coded clips
Heats up fast
A cute little set to take with you when you never know if you might need some quick curls.
---
Our second Conair roller set on this 10 Best Hair Hot Rollers 2020 guide. As I indicated above, Conair seems to have the monopoly on hot rollers of the better quality.
The features of this set:
Jumbo rollers measuring 1 ½ inch for waves or smooth curls
Cool-touch ends of the rollers
Velvet flocked surface
Dual voltage 120V/240V
Easy to use
Heats up quickly
Style lasts all day
Line cord of 5 ft.
Because the rollers are so large, the resulting hairstyle will be large, smooth waves. And inevitably, more fullness and body, especially if you need it!
---
Another well-known name in the hair industry is the BaByliss name and we will be checking their BaBylissPRO Nano Titanium Professional 20-Roller Hairsetter.
The main features:
Nano titanium ceramic rollers which generate far-infrared heat for faster styling
On/Off switch with indicator light
Velvet flocked rollers
Easy to use
3 sizes – small ¾ inch, medium 1 inch, 1 ¼ inch large
Ultra-fast heating up
On/off indicator light
Comes with butterfly and color-coded metal clips
If you have short hair, then maybe this could be the one for your needs.
---
This is another Remington brand of hair hot rollers.
The main features:
The rollers have an exclusive thermal wax core which helps to keep the curls very long and gives more volume
It delivers ionic conditioning which reduces frizz and increases shine
20 Velvet rollers – small ¾ inch, medium 1 inch, large 1 ¼ inch
3 color-coded clips
Exclusive J-clip for a better hold and minimal creases in your hair
Ready indicator light
Cool-touch ends
This set also comes with a 2 yr. limited warranty.
---
And yet another Conair set of hair hot rollers.
The main features:
Uses Ceramic technology which allows the hot rollers to heat up fast and ensure even heat distribution
Ceramic technology for fast heat up and even heat distribution
Dual voltage 120V/230V
12 Ceramic hair hot rollers (medium and large)
Unique starter strip on medium rollers
The rollers are packaged in a soft black pouch for easy storage and travel needs.
---
Well, this one certainly took me by surprise. I am quite familiar with the brand John Frieda but not when it comes to hair hot rollers! John Frieda has been around in the hair industry for more than 20 years. I have used a few of his products as well and happy to have done so.
And to think that in addition to that, it is also a very popular accessory for a lot of users. This is one reason why I added this set to this guide.
The main features:
8 2inch hair hot rollers
Advanced Ionic-conditioning – Has an Ionic generator which generates up to 50% more ions than competitors
Heats up fast within 2 minutes
Includes eight 2-Inch jumbo rollers with advanced ionic conditioning which gives hair a healthy, smooth and shiny look
Uses Ceramic technology
Has hi/low/off temperature settings
Uses Titanium ceramic flocked rollers which helps the even distribution of heat on your hair
Reduces frizz
Includes a butterfly clip to help hold hair in place.
The rollers come in a nice pouch for easy storage and travel. If you like big curls and beach waves, then this set should help your styling needs.
---
And yet another set of hair hot rollers by the Conair brand that is worthy of mention – the Infiniti Pro.
The main features:
8 Large width rollers of 2inch
Tourmaline ceramic material based used in making rollers
Heats up fast
Velvet flocked rollers
Reduces frizz and increases shine
Custom slip design of rollers helps to grip hair
As with all new products, ensure that you read the instruction or user manual before using.
---
My Final Thoughts On 10 Best Hair Hot Rollers 2020
I hope that you found this 10 Best Hair Hot Rollers 2020 guide a source of useful information. Though not a frequent user of hot rollers, I thoroughly enjoyed doing the research. It was an eye-opener for me as well, but for sure, I am now aware of which set of hair hot rollers I can use if I decide to invest in purchasing a set.
If there is one that you find worthy of mention that you think should be on this 10 Best Hair Hot Rollers 2020 guide, be sure to drop me a comment and I will update the guide.
All the best.
Images courtesy of Amazon, Pixabay and Pexels.
[Updated Feb 2020]
---
How would you like to learn how to post on a blog like this one?
You can put your thoughts on paper but learning how to build your own blog is something different. If you have the right training it is not that difficult.
When you learn how to build your own blog you get to choose the things that you write about. You can also use the blog to make extra income. Here is where I learned how to build my own blog and connect with people who helped me along the way.