Philips Norelco Electric Shaver 3100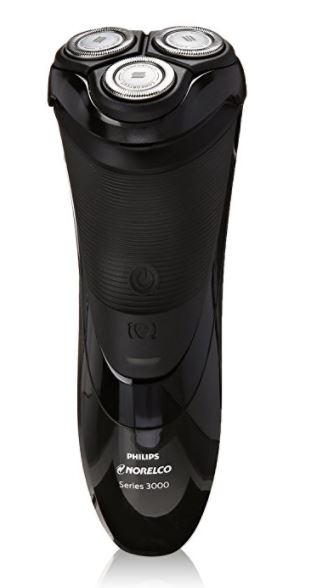 As a woman, shaving is an activity that we sometimes indulge in to make our legs, underarms, and hairlines look appealing to the eye – those of our own as well as others!  I usually use disposable razors and sometimes, I use my husband's electric shaver – the Philips Norelco Electric Shaver 3100
. It may be a man's razor, but it works well for a woman too.
---
Benefits Of The Product
If you are like me and shave your legs on a regular basis, then this shaver is for you!
It:
gives a smooth shave
has a 45 min portable shave-life
the 4-direction flex head system really gets a smooth shave by reaching all the hairs
ensures a longer in-between shave period
---
How To Use The Product
Using the shaver is just like any other. You have to use quick short motions and not too much-repeated action as this can cause razor burns. Ensure that you are using a moisturizing shaving product to get the best shave with a great tool. Remember to clean the shaver once you are finished to help protect the blade life.
---
Product Description And Features
The Philips Norelco Electric Shaver 3100 is a nice improvement on their 3000 series of shavers. You can see the difference in the features:
comfort cut blade system- the rounded edges move more smoothly over the skin surface and give a better shaving experience.
4-direction flex heads – the heads flex in 4 directions so that it contours easily on your face and neck.
lithium-ion power – this gives the shaver a longer charge time.
one touch open – with this feature, cleaning the shaver is an easy task.
it gives you 45 minutes of cordless shaving after 8 hours of charging. It can be used with a power cord or without – very handy.
a protection cap for the blades.
LED display
---
Who Is The Product For
The shaver is for anyone who wants a close and smooth shave – for men and women. As I said, I use my husband's shaver and I love it!
---
What I Like About The Product
Here is my list of reasons why I like my husband's Philip's Norelco Electric Shaver 3100
model:
it gives a smooth shave
it goes easily around my knee and ankle areas when I shave my legs
it cleans easily
it is lightweight
it is reasonably priced
---
I enjoy using this shaver. I find that when I use it, it gives a smooth shave and it seems to last long before I need to shave again. This tells me that it gives a clean, smooth cut every time!
I recommend this shaver. It is a reputable brand and a great product. Have you ever used the Philips Norelco Electric Shaver 3100? How was your experience? I would love your feedback.