Natural Hair Interview
With so many women 'going natural' in our world today, I think it is only fit to do a natural hair interview with someone who has made that 'move' towards embracing their hair as nature intended. And doing so, even it needs help to make it the way that one is comfortable with on a daily basis, especially when one ventures beyond the confines of one's personal space – aka – the bathroom. We tend to be more conscious as we go 'forth in the public space' called 'society'.
Yes, embracing our natural hair state is indeed a new 'era' for black women and our 'world' is not yet fully educated or informed as to how 'it all works'. In short, ALL hair is beautiful, and the sooner we open our minds to this basic thought, the easier our transition will become. I salute all women who have taken that one step closer to 'showcasing' nature's gift of beautiful black natural hair.
I would like to introduce 'Black Natural Beauty' (BNB) as she gives her answers to the questions about her transition and how she cares for her natural hair.
1/How long have you been natural?
I think like many women of color, throughout the years I've tried wearing my hair naturally, but have given up because of not knowing what to do or not having access to quality products. This time around, I've been natural for almost five years.
2/What motivated you to start wearing your hair in its natural state?
In 2010, I started noticing drastic hair loss that coincided with the development of a serious health issue. Until that point, I had grown my tex-laxed hair to APL[Arm Pit Length], and felt very confident about my hair journey progress.  I went to a stylist for help and she encouraged me to stop relaxing and start wearing protective styles (like a weave sewn onto a net), which helped me transition easily.
3/Before going natural, how did you care for, wear your hair? Did you enjoy it?
Before going natural, I found caring for my hair difficult.  I felt like I was always chasing some goal that those on hair boards achieved quite easily. I felt intimidated by my hair in its natural state: it was so fine and unpredictable. Plus, I felt styling was limited because of the hair loss. It was often just easier to keep it in the protective style.
4/How do you find caring for your natural hair? Is it easy, time-consuming, overwhelming? Do you have a regimen?
Recently, I took a chance and purchased KinkyCurlyYaki Clip-in Extensions.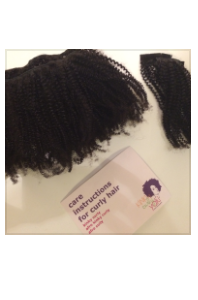 The hair resembled my hair texture in its most natural state. Learning how to work with them has given me SUCH a great appreciation for my own natural hair!!!
I'm learning how to be gentle and patient as I manipulate the clip-ins; and, as a result, have accepted that this approach is also needed for my own hair. In the past I felt overwhelmed and impatient, now I don't mind figuring out what my hair likes or responds well to, it's just a part of learning.
Strangely enough, the regimen I've adopted for the clip-ins also works well for my hair. I no longer feel stressed by the number of steps necessary to "get it right." Now, I finger detangle & section, co-wash, deep condition with heat, rinse, apply leave-in and curl creams, then style. I still like a good overnight GHE with castor oil on my cornrowed hair every now and then.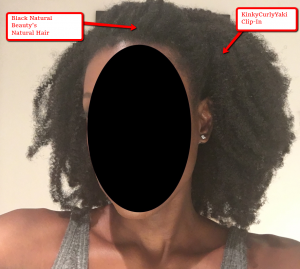 5/Would you consider your hair in its natural state versatile or a pain? Have you mastered the art of hair in this state?
Now that I've invested in these clip-ins, I'm committed to appreciating and caring for my hair. There's something about laying a lot of money down on a purchase that affects how you treat it, right? Well, the learning curve has been steep, but I can't say enough good things about what this experience has taught me about my hair. It's SO versatile, strong, and healthy! I'm two weeks in with the clip-ins and have mastered only one style so far, but I'm looking forward to trying others as my confidence increases.
6/Do you have any regrets in making your choice/decision to go natural?
I definitely don't regret going natural. However, I wish I'd been more attentive to the connection between overall wellness and hair health. When I decided to go natural in 2010, I hadn't begun to properly address my health issues and I big chopped 2 years later. I hoped to give all of my hair a chance to grow together, but the areas where my hair had fallen out weren't growing, and I again found myself with a problem.
7/What would you consider the main advantages and disadvantages of being a woman with natural hair?
Advantage? Amazing versatility. Disadvantage? Discrimination.
Even with more women of color wearing their hair naturally, there's still a bias against natural styles in the workplace. I'm in school right now, and although I get lots of compliments about my hair's versatility (especially since the clip-ins), I think I'll probably heat straighten it just for interviews and academic job talks, but wear it in its curly state after that.
8/What are your favorite 'go to' hairstyles?
Right now, I love the half-up, half-down look. I'm keeping my own hair cornrowed with the clip-ins over them. My leave-out matches the extensions really, really well so it's easy to protect my hair and still enjoy its texture too. Since I've begun managing my health issues better, the areas with hair loss are growing in really well. Until they've returned fully, I'll stick with the extensions.
9/Being natural, do you find it difficult to incorporate hair extensions with your styling techniques? Especially if you chose not to wear the more traditional 'natural' hairstyles like braids, wigs or weaves?
Without sounding too much like a commercial, KinkyCurlyYaki's Textured Extensions have helped me maintain hair health, not just for what's braided in my weave, but also with the leave-outs. I wore their Kinky Blow Out for six months, which mimics my own texture after it's been blow dried. Since my stylist is in another city (5-6 hour drive away), I switched to the Afro Coily clip-ins, which gives me greater access to my own hair and don't require any heat.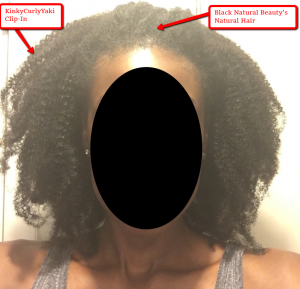 10/Would you recommend that someone transition to being fully natural; and, if so, what are your more dominant reasons?
Hair styles and choices are so personal!
While learning to work with my hair in its natural state has been very liberating, it's also required a lot of work. I made the switch for health reasons but have received so many other benefits. I suggest that anyone considering transitioning to being fully natural recognize that the learning curve will be steep. It'll require the development of patience and an open mind. Sometimes the style you wanted doesn't work out, but you discover something beautiful along the way.

Well, I would like to thank Black Natural Beauty so much for taking the time to tell our community about her ongoing experience with her natural hair – the advantages, the challenges and the liberation which comes with freedom of expression in any form.
Please share your thoughts and experiences in the comment box. I would love to hear your feedback. Happy hair journey wherever it takes you.
This article was updated February 2019.
Images courtesy of Pixabay.
---
How would you like to learn how to post on a blog like this one?
You can put your thoughts on paper but learning how to build your own blog is something different. If you have the right training it is not that difficult.
When you learn how to build your own blog you get to choose the things that you write about. You can also use the blog to make extra income. Here is where I learned how to build my own blog and connect with people who helped me along the way.